Cabinet Solutions' Response to Unforeseen Issues
Unforeseen issues in a kitchen renovation project are not uncommon. How a company addresses and responds to challenges is very important to their clients. It can make the difference between a delighted or a frustrated customer. Here are the stories of Cabinet Solutions' clients.

Here are Reviews of Cabinet Solutions' Clients:
---
2015
↑ Back to top
"I ended having extra material and Cabinet Solutions took the material back without hesitation – that was good."
Bud A,  AB Oct/15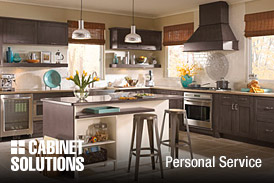 ---
"There was one cabinet that came cracked and a couple of doors that were warped. Cabinet Solutions immediately rectified the issues and they also delivered the correct cabinet to us. They brought it all the way to High River, with no charge – I was impressed."
Lori H, High River, AB Sep/15
"Cabinet Solutions Designer was off work for a bit but that didn't slow anything down. The other person who was filling in for her did a good job as well. They looked after my needs very well. It wasn't like the Designer was gone, so I had to wait. They all looked after us very well."
Linda C, Airdrie, AB Sep/15
"It went really well. I was at ease. I had an issue with a cabinet that was damaged in transit. Cabinet Solutions looked after everything with no problems – It was very good."
Heather A, NE Calgary, Aug/15
---
"The Designer at Cabinet Solutions was awesome. We got the fridge 40% installed and it didn't work. I went back to the Designer and she helped us get it right. She was willing to work with me and it was good, as she was very efficient at using the pieces we already had. It took some work but it never felt that I was being an inconvenience. Now, we are really happy with the layout."
Rob E, SE Calgary, Aug/15
"I was pretty confident that Cabinet Solutions would be there to sort out any issues if there were any in the future. It was the impression that I had from their staff."
Sue S, Castlegar, BC Jul/15
"I had been given wrong information at some point and when the Designer responded, it was quick and she got the issues resolved."
Brian S, SW Calgary, AB Jul/15
---
"We had a real trouble spot for cabinetry about our stove. The Designer went the extra mile for us. She was patient helping us find a solution. In the end, the Designer crafted something that is fabulous for the space and we are happy. It is great."
NE Homeowner, Calgary, AB Jul/15
"Cabinet Solutions' Designer knew I was getting granite, glass tile, and high gloss cabinets so he said that I should get diffused lighting. I told my Electrician what I wanted, however, he still came with the 'landing strip' lights that are too sharp. He was having trouble understanding my point, so I got Cabinet Solutions' Designer on the phone to explain things to the Electrician. The result is that I have much nicer lighting than I would have had without the Designer's help."
Pam Z, Calgary, Jun/15
"One of the pieces from Cabinet Solutions came damaged and we didn't notice until the granite was installed. Cabinet Solutions' Designer immediately handled it and reordered and put a "rush" on it. We really appreciated her speedy attention to this."
Noreen P, Calgary, Jun/15
---
"Cabinet Solutions' Shipper/Receivers were awesome too. I changed a couple of things afterward. I went on Saturday to pick up extra bits that were not on the original plan."
Sabine H, Calgary, AB May/15
We were in a hurry on this project. I was 8 months pregnant and we needed to get the job done. Cabinet Solutions was helpful.
Homeowner, Calgary, AB Mar/15
Yes, when we were done the plans, the Designer strongly recommended that we take them back and recheck our measurements. I was initially bothered by that but we went back and none of the measurements were correct. So good on Cabinet Solutions Designer for suggesting we go back. It made a big difference.
Warren E, Calgary, AB Mar/15
---
"We had to make a few changes along the way but Cabinet Solution's staff were helpful and had a good attitude about it and that really helped."
NE Homeowner, Calgary, AB Feb/15
"The only issue we had didn't really relate to Cabinet Solutions but they were considerate and helped us out and we really appreciated that. They could have been dismissive but they were not."
James C, NW Calgary, AB Jan/15
"We were short on crown moulding but when we called Cabinet Solutions about it, they said they would get us more. It felt like they wanted to make sure we were satisfied."
Gus P, SW Calgary, AB Jan/15
---
2014
↑ Back to top
"Cabinet Solutions Designer also recognized a problem with the type and location of my fridge. She fixed it in the design phase which was good. She also integrated ideas that I wouldn't have thought of."
Ed J, SE Calgary, AB Dec/14
"I cannot fault Cabinet Solutions for anything. Many times you hear horror stories but this was our best renovation experience we have had. We have likely done more than 20 in the past."
Tim A, SW Calgary, AB Dec/14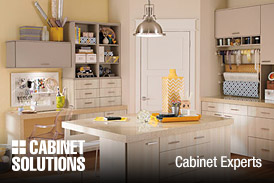 ---
"If we made changes or had issues, the product was in stock at Cabinet Solutions. It could be changed out right away."
Ken E, Carstairs, AB Aug/14
"Cabinet Solution's Designer went out of his way for us. We had a problem with one cabinet (it was damaged during shipment). He kept on top of it and kept us in the loop on where it was and when it would arrive."
Bev M, SW Calgary, AB Jul/14
"We were impressed Cabinet Solutions and they allowed me to make a last minute order change. It was no problem."
Clifford M, NE Calgary, AB Jul/14
---
"I had trouble with my Contractor on Installation times. Cabinet Solution's Designer helped me understand the Installer's perspective and that stopped me from feeling like I was being taken advantage of. That was really helpful."
Kasey C, NW Calgary, AB Jul/14
"I guess when I deal with any company I look for a relationship, for someone I can talk to if issues arise. It seemed that with Cabinet Solutions if we would have had any issues we could have dealt with their Designer and got things resolved."
Kent R, NE Calgary, AB Jun/14
"Everyone at Cabinet Solutions was great. Due to the damage done during transportation, we needed some extra material. We went back and their staff were excellent. My feeling is that we had a good level of support from Cabinet Solutions and their Designer."
Laureen D, NW Calgary, AB Jun/14
---
"I had to return a panel and that was easy. No issues with Cabinet Solutions."
Mike B, SE Calgary, AB Jun/14
"There were some challenges but our Installer overcame them. One of the pieces was not quite right but Cabinet Solutions was willing to re-order and get it to us. The issues were all resolved."
Kevin R, SW Calgary, AB May/14
"There were warranty issues but Cabinet Solutions replaced them without question. They gave me delivery for the parts for free. I had no problems (after that)."
Christian B, NW Calgary, May/14