This page contains feedback results and reviews from ELRUS' customers about their Overall Impression of parts purchased from ELRUS Aggregate Systems. Client Insight Inc. interviews ELRUS' cucstomers across Canada. We are given full latitude to interview all customers based on region and sales data. The graphed results below 'speaks for itself' and provides customer insight into ELRUS business. Read the customer stories below.
Timeline: 2017 | 2016 | 2015 | 2014 | 2013 | 2012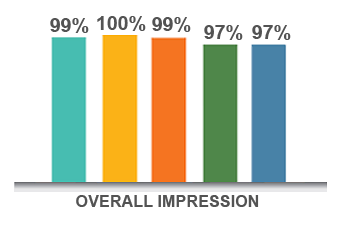 Satisfied with the parts purchase experience
I will continue to purchase parts from ELRUS
I will recommend ELRUS to industry associates & partners
Satisfied with the quality of parts offered by ELRUS
ELRUS staff are professional to deal with
Here are Reviews of ELRUS' customers:
---
2017 ↑ Back to top
"Some of the employees at ELRUS have a lot of knowledge. My experience with them in Canada was good. They need more infrastructure and people in the US."
Brad W, Walker Sand & Gravel, Canon City, CO Dec/17
"I usually talk to Lloyd at ELRUS for parts. If they don't have the parts I need, they know how to get them quickly from somewhere else for me."
George S, Fish Creek Excavating Ltd, Calgary, AB Dec/17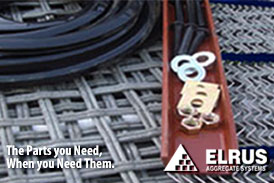 ---
"Pricing on parts is a big reason we switched to ELRUS. We were paying quite a bit more with another supplier."
Aaron S, Heritage Rock & Services, Delta Junction, AK Nov/17
"I will definiteIy purchase parts from ELRUS again. I also think it is good that ELRUS cares enough to want to know what their customers think."
Josh K, Mainland Sand & Gravel ULC, Surrey, BC Nov/17
"I call James M with ELRUS. If he doesn't immediately have an answer, he will get the answer from wherever he can. He is usually quick with a response either way. I like the fact that he doesn't pretend to have an answer if he doesn't. They go above and beyond on the shipping for us."
Joe D, BBE Hydro Constuctors LP, MB Nov/17
---
"We have one guy we can call at ELRUS in Colorado, Curt Coon, and he will walk us through anything on the phone. It's great to have that kind of relationship."
Mike S, CEMEX, Vancouver, WA Oct/17
"ELRUS does what they can to get me parts at a good price."
Mario T, Alvin Caldwell Sand and Gravel, New Liskeard, ON Oct/17
"If ELRUS has what we need in stock, James and his team are good about getting them to us quickly. We have never had trouble getting the right parts. "
Peter S, Sun Gro Horticulture, Vilna, AB Oct/17
---
"Everything goes very well with ELRUS. We are happy with their service."
Mike H, Fine Gold Resources, Dawson City, YT Sep/17
"We have had some jam ups and ELRUS does their best to get us going again."
Dan M, Interpaving Asphalt and Aggregate, Garson, ON Sep/17
"Lately I have been ordering more from Jason at ELRUS. Jason has been great. I've been in lots of binds and they have always been very good at dealing with the problem right away. They have never let me down."
Adam W, Green Drop Ltd, Calgary, AB Sep/17
---
"Of course I will purchase parts again from ELRUS because of the quality and service."
Corrine E, Drayton Sand & Gravel (2003) Ltd, Drayton Valley, AB Aug/17
"I like dealing with Paul at ELRUS because he is knowledgeable."
Lloyd G, Butler Bros Supplies Ltd, Duncan, BC Aug/17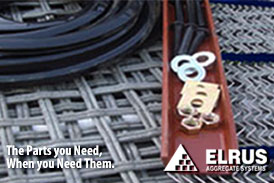 ---
"Since we have purchased the ELRUS equipment in 2008, I have had continual support. I have never had them walk away. Any issues we have ever had with engineering, they have worked with me to fix it. They have listened to what I have asked. If I say I am paying too much for something, they work with me on that too. I haven't been disappointed with any piece that I have purchased from them. It has always done what they said it would do and it lasts a long time."
Steven F, Paul Flasha Contracting, Whitecourt, AB Jul/17
"ELRUS has the most parts that I need in stock, and they will find it if they don't have it. James gets me what I need, and he goes the extra mile to make sure I get what I need quickly."
Allan S, Russell Redi Mix Concrete, Russell, MB Jul/17
"I recommend ELRUS because of the whole experience: the people, the service and the quality of parts."
Don B, Glenko Enterprises (1994) Ltd, Arborg, MB Jun/17
---
"It is important for me to have the quality and durability of the parts and also the service that ELRUS provides. They have parts that are a bit on the high side, but the quality is better. A screen from ELRUS will outlast a screen from another firm that I deal with, so even if the parts are on the high side, if they last twice as long then you are still saving money."
Bernard V, B Vermette Backhoe Services Ltd, Ste. Anne, MB Jun/17
"My experience with ELRUS has been good. They have a good stock of parts which is getting harder and harder these days. Also, we have ELRUS equipment and we are quite happy with it. It is well built."
Clare C, C.R. Chittick Ltd, Ilderton, ON Jun/17
"We had a problem last fall repairing a plant. Dawson and Kris from ELRUS came and everything got taken care of and went very smoothly."
John Z, Otter Creek Resources Ltd, Sechelt, BC May/17
---
"I always get a hold of someone at ELRUS right away, and if not, they call me back. Most times they solve the problem quickly too. ELRUS has done quite a bit to help us out of binds. I would recommend ELRUS because they stock a lot of parts, their prices are pretty good, and their people are good to deal with. They get things done in a timely manner. That is extremely important in our industry. So things like carrying the parts we need so we can get them quickly, that is what helps reduce down time."
Dustin H, Smook Contractors Ltd, Thompson, MB May/17
"ELRUS is easy to deal with, and they are dependable. They never leave you hanging. They always get back to you right away, when they said they would. What I value the most from ELRUS is the ease of dealing with them. There are never any issues. It's the quality of their people. They have really good staff."
Daryl Finney, Dexter Construction Co Ltd, Bedford, NS May/17
"I call ELRUS all the time, morning, noon, night, and weekends. They always answer. Sure, we'll discuss what I need. Sometimes its parts, or service, whatever it is, they are ready to respond. I have their cell phone numbers."
Aaron S, Selkirk Paving Ltd, Crescent Valley, BC May/17
---
"ELRUS is really good about getting parts to us quickly."
Scott G, Standard Limestone Quarries, Stonewall, MB April/17
"ELRUS has good service and equipment."
Rick B, Pioneer Construction Ltd., Copper Cliff, ON Apr/17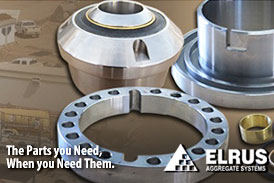 ---
"Spenser and Jared at ELRUS are so good, they have a lot of respect in the industry here. They aren't arrogant or pushy. Spenser is a gem for that company. As long as he is there, ELRUS will do well. Jared and Spenser are the first two people I call whenever I have any crushing problems."
Shawn W, G.W. Construction Ltd, Buchanan, SK Mar/17
"ELRUS goes above and beyond. They have really impressed me."
Tyrell H, Jake-Jay Construction Ltd, Revelstoke, BC Mar/17
"ELRUS is performing admirably."
Shawn M, Bernt Gilbertson Enterprises, Richards Landing, ON Mar/17
---
"We have always had good experience with ELRUS. Dawson is really great. He comes out to visit."
Phil, Valley Gravel Sales Ltd, Abbotsford, BC Feb/17
"We're in Grande Prairie, and when we call ELRUS, the staff are very good and helpful, and they know the products well."
Gwen S, W.D. Smith Gravel Services, Grovedale, AB Feb/17
"ELRUS is doing something right. I just ordered an unusual part and they said they would have it to me either today or on Monday. So I know that it will for sure be here by Monday if not this afternoon."
Merritt S, Wheatland Aggregates Ltd, Lafleche, SK Feb/17
---
"ELRUS makes good products and I have had good experiences with John."
Corey B, Brandes Gravel Pit, Sault Ste. Marie, ON Jan/17
"Phil at ELRUS is great to work with. I know if I needed him after hours, he would help me out."
Mark D, southwestern Sales Corporation, Tecumseh, ON Jan/17
"The ELRUS guys are great. I have been dealing with ELRUS for about 10 years and I have never had any problems. Kurt, Kyle, and Greg, they are all great. When I need parts, I call Kurt at ELRUS."
Brent M, Canada Building Materials, St Marys, ON Jan/17
---
2016 ↑ Back to top
"ELRUS does a good job. I've never had any problems with ELRUS."
Dennis C, Gravier Collet Gravel Inc, Notre Dame De Lourdes, MB Dec/16
"I like their wires, and Kris from ELRUS has been great. Whenever I call him, he is on the ball right away."
Greg B, Vihar Construction Ltd, Smithers, BC Dec/16
"I always think it's good to tell people when they are doing a good job. ELRUS is a great supplier for us."
Gordon S, Clifford Sheaves Construction, Grand Bay West, NL Dec/16
---
"I've got no issues whatsoever with ELRUS. I've always had a good experience with them."
Bill, H, Holt Transport, Irma, AB Nov/16
"In the customer service and parts end, they are in the high 90s. They do a pretty good job. ELRUS is always our first choice for getting the components. We support them well and they support us."
Noel, Kode Contracting Ltd, Prince George, BC Nov/16
"The service at ELRUS is great. The parts are there, and if they don't have them, they can get them quickly. I have never had a minute's problems with the guys in Saskatoon or in Calgary. They even come out on weekends. One time I had a computer go down. I took it to Calgary on a Saturday and they fixed it for me."
Morley L, Swayze Concrete Ltd, Weyburn, SK Oct/16
---
"Terry with ELRUS goes above and beyond. I don't ever have to call him back, he calls me. He made sure the whole order went smoothly from start to finish. ELRUS is my number one supplier for parts."
Richard G, Tli Cho Landtran Transport Ltd, Yellowknife, NT Oct/16
"I value the service and the guys at ELRUS. I can go in there and sit down and just talk. They all know what I need, and they're easy to talk to. They have a good group of people there."
Rick T, Lone Pine Crushing, Hughendon, AB Oct/16
"100% satisfied with service at ELRUS. They are really good about responding after hours."
Morley L, Swayze Concrete Ltd, Weyburn, SK Oct/16
---
"Usually we have parts from ELRUS the next day. Sometimes they are flown to us overnight. This past summer was the first time in 20 years that we were sent the wrong part, a cone, and they got the right one to us the next day."
Russ Y, Pine River Holdings Ltd, Chetwynd, BC Sep/16
"I can't get everything from ELRUS but for most everything, they have what I need. They also have parts that I can't get anywhere else. We are really happy with ELRUS."
Shayne E, Emshay Enterprises, Moose Jaw, SK Sep/16
"I deal with James in Winnipeg. He is knowledgeable and available. He is willing to help get me what I need with no hassle. All in all, we are extremely happy with ELRUS."
Bert L, L. Chabot Enterprises Ltd, Winnipeg, MB Sep/16
---
"Within the scope of what we ask from them, ELRUS exceeds expectations. They have good parts. ELRUS gives exceptional service and has quality equipment. They are a professional company."
Shane, Allen Rock Products, Cove, Utah Aug/16
"ELRUS goes over, above and beyond. One time, I have an old front end loader, and I took some parts into Jason and the guy in the shop pressed them out for me. I was quite impressed. These were Caterpillar bushings, not even ELRUS parts, and they took care of that quickly for me."
Rob, Kerridge Concrete Ltd, Calgary, AB Aug/16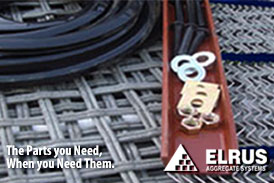 ---
"ELRUS is a bang up company. Kris is always really good to deal with. Their parts are very well made. In fact, the parts and equipment that ELRUS makes are above and beyond what I have seen from other companies."
Leon S, Westlake Paving & Agg. Ltd, Kelowna, BC Jul/16
"I like the ELRUS guys, they are very good. This was a new product line for them and they have tried to learn it and understand it. Based on other suppliers we use, they are top notch."
Bill C, Agassiz Drilling 2000 Ltd, Rosser, MB Jul/16
"I think ELRUS parts are better than most of the knock-offs out there. I would always rather buy from ELRUS."
Stephan F, Tollestrup Construction (2005), Lethbridge, AB Jul/16
---
"I deal with Lloyd mostly but all the guys are knowledgeable. Lloyd is top drawer. They have a better selection than anyone else in Calgary. They carry good stuff, not the cheap stuff."
Gary G, Aecon Transportation West Ltd, Medicine Hat, AB Jun/16
"Response time is pretty good. I can pick up the screens I need by the next morning. ELRUS has the right parts. I can go to them for parts for my Cedarapids crusher and that says a lot."
Ted P, Tedlon Services Ltd, Thompson, MB Jun/16
"ELRUS bring the parts to us. It's been really good service. James is doing a good job."
Ryan B, Ken Beatty Construction, Erickson, MB Jun/16
---
"James with ELRUS has been good about that and he has talked to his supplier WEG to get more inventory in Winnipeg. They have agreed to always have 2 of certain models in Winnipeg, so that we can get the replacement motor in 10 hours instead of 3 days."
Dale F, BBE Hydro Constructors LP, Keeyask, MB May/16
"I have only had one problem with ELRUS. When I bought it to their attention, they addressed it right away. It works both ways, we have a good relationship."
Doug S, Norwesco Industries (1983) Ltd, Calgary, AB May/16
"They are very good at bringing parts in a timely manner. Anything that I have received, they have done a good job on. The parts they don't have are 'one off' that I wouldn't expect them to inventory – it is too hard and random. They are fast at bringing in those parts when we need them and that is all I can expect. I would say they are very accommodating."
Mike B, Tri-City Materials, Petersburg, ON May/16
---
"We have never gotten a wrong part yet. We have never made a return with ELRUS. I am very impressed with their service overall."
Carl W, Brockman Enterprises, Humboldt, SK Apr/16
"I have dealt with ELRUS for 25 – 30 years. They are pretty consistent and we have been treated fair."
Garry S, Lafarge Canada Inc, Edmonton, AB Apr/16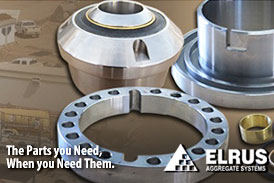 ---
"ELRUS knows what they are talking about and they figure things out. I also like Travis their mechanic. He is very good with the equipment – he treats our equipment like it is his own. They are good to deal with."
Sylvain, Ruel Concrete, Peace River, AB Apr/16
"They are knowledgeable and they know what to do. The ELRUS staff know the 'ins and outs' of what needs to be done and they have the parts readily available."
Jorden D, Associated Aggregates Inc, Falun, AB Mar/16
"There are cheap products, middle of the road products and better products. If you need a belt scraper, ELRUS will sell you a good one, the right one. The other thing we like about ELRUS is it is built and designed in Canada for our conditions."
Jeff Y, Armstrong Construction Ltd, Fraserwood, MB Mar/16
---
"There is no one better. I have dealt with many suppliers over the past 35 years and there is no one better than ELRUS."
Leonard H, Lawrence Meier Trucking, Dunmore, AB Feb/16
"We are more than satisfied with the quality of what we have purchased from ELRUS."
Andy G, Pyramid Construction, St. John's, NL Feb/16
"ELRUS is a good company. It is very easy to order parts – James is very good. If I need something, James usually calls back right away."
Joe N, Joe Neniska & Sons Ltd, Kenora, ON Feb/16
---
"I think ELRUS has pretty much everything we need. We often put them on the spot as well. The main thing for me is that James Morton seems to get things to us. He is usually here once a week. He will often delivers parts to us or meets us halfway – it has worked and continues to work really well."
Allan S, Russell Redi Mix Concrete, Russell, MB Jan/16
"ELRUS is really good to deal with. They are planning on coming out to my shop to look at our screens and crusher. They said they may have some ideas to make operations more efficient."
Jacob M, Grip Construction Ltd, Rimbey, AB Jan/16
"Kurt is really good and we appreciate ELRUS' service. They have a lot of knowledge and good prices as well."
Melissa B, Farrish Crushing Inc, Listowel, ON Jan/16
---
2015 ↑ Back to top
"They make the best product out there – I am a big ELRUS fan. I have conveyors that I got from ELRUS years ago."
Sheamus C, H Coyne and Sons Ltd, Whitehorse, YK Dec/15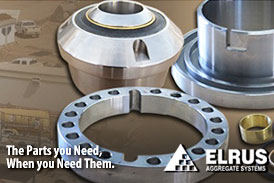 ---
"I have no issues with ELRUS in the 4 years I have dealt with them. Things always come through for us with ELRUS."
Don S, Inland Aggregates, Winnipeg, MB Nov/15
"I haven't bought any new equipment now for a few years but yes, I can still get things changed if I wanted to. I have a good relationship with ELRUS and their employees."
Harold S, Harold Sutherland Construction, Kemble, ON Nov/15
"Curt at ELRUS is more like their mechanic than a partsman. We do an annual inspection of our cones each year and Curt comes out for that. We just bought a new head assembly. I want to have someone from ELRUS on site, anytime we repair it. I have a pretty good working relationship with Curt."
Harold M, Granite Construction Company, Salt Lake City, UT Oct/15
---
"We have already bought parts from the guys at ELRUS. We already trust them because every time we have a problem, they come up and help us. We like their equipment. For now, they are helping us keep our old equipment 'alive and running'."
Mabel B, Lake County Road & Bridge,
Leaderville, CO Sep/15
"From parts to service, ELRUS is helpful. Thor is also available for credible advice. He will come out and tell us if parts are good to the end of the season or if they need to be replaced right away – it is very helpful."
Ed S, Diamond Ready Mix Concrete Ltd,
Steinbach, MB Aug/15
"ELRUS is a good quality organization. They are reasonable on pricing their parts."
Leon S, Westlake Paving & Agg. Ltd,
Kelowna, BC Aug/15
---
"ELRUS is a very proactive company. 98% of our equipment is from ELRUS."
Dan R, Stony Valley Contracting,
Fort McMurray, AB Aug/15
"ELRUS builds good products. They are also very helpful for us."
Lee W, Joe Kerr Limited,
Wingham, On Aug/15
"I am 100% satisfied with ELRUS, so I cannot think of anything to improve the experience. ELRUS is a pretty good outfit."
N Ostero Jr, Nels Ostero LTD,
Taylor, BC July/15
---
"The ELRUS product and service is better than the competition."
Doug F, Doug Folden Trucking Ltd,
Melfort, SK July/15
"Any time I need help with either parts or mechanics, I can give ELRUS a call. I support them like they support me. They are easy to reach and I can call the mechanics in Calgary for troubleshooting if I need it. That is worth a million dollars."
J Dagley, Associated Aggregates Inc,
Falun AB June/15
"We are satisfied with the overall purchase experience with ELRUS as it has all worked out well. ELRUS provides top of the line service. I enjoy dealing with Mario and whoever else is there."
M Dunphy, Carmacks Enterprises LTD,
Edmonton, AB June/15
---
"Another thing that ELRUS does well is that they just stop in, out of the blue and want to know if they can help or if we need anything. They are very good that way and that doesn't happen with many other companies these days."
M Longley, Swayze Concrete LTD,
Weyburn, SK June/15
"I find the service of ELRUS Aggregates to be good. They are upfront and provide accurate information. Anytime we need additional information they are always available to provide it and helpful to get it for us."
S Henriquez, De Beers Canada Inc,
Gahcho Kue, NT May/15
"ELRUS has a reputation in the industry that would suggest a high (customer satisfaction) score. I have no level of dissatisfaction with ELRUS at all. I wish I had all ELRUS equipment as it would make the purchasing of parts and service much simpler."
D Stringer, Esker Aggregates,
Timmons, On May/15
---
"I buy crusher liners from ELRUS and my experience is that their liners are heavier. So, my belief is that ELRUS liners are better. I go to ELRUS for all my wear parts."
W Omachinski, Williamson Trucking,
Reston, MB May/15
"I am very satisfied because ELRUS seems to be there to help me. It seems that Kris will do his best to make sure that I have the help I need."
K McDonald, Dawson Construction Ltd,
Kamloops, BC Apr/15
"On the service side, we use ELRUS to do heavy crusher rebuilds on equipment that they don't supply. We work with ELRUS because we know they will do a good job. The OEM suppliers that we have asked to do our service, cannot seem to turn it around as fast. We also use ELRUS to repair equipment manufactured by others because we trust them."
P McEwan, Lafarge Construction,
Stouffville, ON Mar/15
---
"ELRUS has quality service and can provide a lot of support. They have people who know what they are talking about and they are very friendly."
D Philip, Calgary Aggregate Recycling,
Calgary, AB Mar/15
"I have dealt with a lot of other companies and can compare the service experience with them. ELRUS is the best. I can phone and ask the ELRUS staff about problems that I have with my Cedarapids equipment and they will help. Not too many companies will do that."
T Bailey, Lafarge Canada Inc-TBG EDM,
Edmonton, AB Mar/15
"We have never had a mistake with ELRUS. We get exactly what we ask for."
G Geroge, Aecon Transportation
West Ltd, Calgary, AB Mar/15
---
"We did have one little hiccup with our equipment and encountered a problem within 4 hours of start up. We had to tear it apart again and ELRUS' Service Tech called the shop and clarified what was needed and then instructed them to "get in the truck and start driving it to us." ELRUS got it going quickly, so I am pleased."
A Seckowski, Selkirk Paving, Crescent
Valley, BC Feb/15
"Yes, I would score ELRUS Aggregates between 98 to 100%. They have a ton of knowledge and they do good work. I would take our equipment back in a heartbeat."
C Chalmers, Mixcor Aggregates Inc.
Leduc, AB Feb/15
"ELRUS' Service Tech helped me get it going before the end of the day. It turned out well."
B Wenckowski, Inland
Aggregates (Edmonton), AB Feb/15
---
"We had a minor setback but the way ELRUS handled it was good. When we got the serviced equipment back, it didn't work properly. People make mistakes and I understand that but ELRUS corrected the error."
D Hanson, Smook Contractors,
Thompson, MB Jan/15
"I am quite happy with that Field Service from ELRUS Aggregates. I know that they do everything they can and overall, we feel looked after."
D Coderre, W.H.Coderre & Sons,
Stoughton, SK Jan/15
"I am happy with ELRUS Aggregates. I wouldn't be in this business if it wasn't for them. They have treated me well."
A Laurin, Ruel Concrete,
Peace River, AB Jan/15
---
2014 ↑ Back to top
"Historically we have had a very good relationship with ELRUS Aggregates. Most of our equipment is sourced from them and they do most of our service."
R Mantha, Harold Sutherland
Construction, Kemble, ON Dec/14
"Yeah, he was competent to create a solution. We had already diagnosed the issue. Certainly in most events, diagnosis is critical but it wasn't in this case."
E Lamb, Waterford Crushing,
Brantford, ON Dec/14
"They are a good bunch of guys at ELRUS Aggregates. We get along really well."
K Fhur, ASL Paving,
Saskatoon, SK Dec/14
---
"It's the service I get from ELRUS Aggregates. Their service and equipment costs a bit more money but you get what you pay for."
D Gilbert, Zenith Paving,
Brandon, MB Dec/14
"ELRUS were actually able to take our equipment and do the servcie work faster than our OEM supplier could."
J Lamont, Lafarge,
Calgary, AB Nov/14
"The ELRUS Service Techs are very knowledgeable and easy to get along with."
L Jensen, Claude Resources,
Seabee, SK Oct/14
---
"With the ELRUS Branch opening in Saskatoon, we have directed most of our ordering out of Saskatoon. There were minor glitches at first but it works good now. Now 100% of our orders come through Saskatoon and the parts side is working really well."
G Jones, Snake Lake Construction,
Cigar Lake, SK Oct/14
"On that particular job, we were mostly concentrated on the bearings. They will always talk to us quite a bit and identify other possible issues."
M Thibuilt, Alvin Caldwell S&G,
New Liskeard, ON Sep/14
"I would score ELRUS in the mid 90's. They have never wronged us. Whenever I have needed service or parts, it is never a problem."
S Bowden, C.R. Chittick Ltd,
Ilderton, ON Aug/14
---
"ELRUS Aggregates did a good job for me. There was a glitch but glitches happen. ELRUS responded and got it taken care of."
P Pals, Filipenko Brothers,
Castor, AB Jul/14
"ELRUS did a good job and identified some additional glitches, so we ended up taking it into their shop. It was smooth."
Aggregate Producer, Winnipeg,
MB Jul/14
"ELRUS looks after me. I have only really dealt with Cambridge but the staff there are really good. They are friendly, helpful and if called upon will help us out. ELRUS has been able to develop into a company with a 'get you rolling again' attitude. They have a good understanding of the business – 'production is everything'."
C Burill, Lafarge Canada,
Glouchester, ON Apr/14
---
"Yes, a 100% score for ELRUS Aggregates is pretty accurate in my experience."
S Flasha, Paul Flasha Contracting,
Whitecourt, AB Mar/14
"94% sounds about right, I would definitely recommend them."
B Jones, Lafarge Canada,
Cambridge, ON Mar/14
"The ELRUS staff came to site not realizing I needed help. But it was perfect as they were willing to fix what I needed right away. Can't ask for much better than that."
G Willson, Custom Loading,
Burnaby, BC Mar/14
---
"So what is the value of a courtesy call from the ELRUS ' Service Techs? You realize that they are really looking to service their customers."
J Danford, Danford Construction,
Madoc, ON Jan/14
"Yes, I have nothing negative to day. ELRUS Aggregates provides good service and that is what we want."
R Smith, Alberta Aggregates,
Brooks, AB Feb/14
"Yes, for what I need, ELRUS Aggregates does really well."
J Dagley, Associated Aggregates,
Falun, AB Feb/14
---
"I have been at ELRUS crushing school both in Cambridge and Calgary, they treat us really well … they always take care of us."
J Hebert, Custom Concrete,
Timmons, ON Feb/14
"I talk highly about ELRUS Aggregates to everyone. They do good work and build good equipment."
D Gilbert, Zenith Paving,
Brandon, MB Feb/14
"So what is the value of a courtesy call from the ELRUS' Service Techs? You realize that they are really looking to service their customers."
J Danford, Danford Construction,
Madoc, ON Jan/14
---
2013 ↑ Back to top
"They have been a huge help to us. At times, we have needed parts last minute. ELRUS has run them out to us and that saved us down time."
B Kelly, Summit S&G, Abbotsford, BC Dec/13
"Yeah, I wouldn't hesitate to have Spenser or Jared back again."
R McIntosh, McIntosh Crushing, Montmartre, SK, Dec/13
"… having ELRUS on site was great."
G Seabloom, Hub City, Nanaimo, BC Dec/13
---
"ELRUS Service staff are good and very professional."
Leon, Westlake Paving, Kelowna, BC Jul/13
"I have no problems saying that ELRUS Aggregates is 100% with Site Service."
P Holub, Lafarge Canada, Red Deer, AB Jul/13
"The best thing about ELRUS is they get me up and running."
A Laurin, Ruel Concrete, Peace River, AB. Feb/13
---
2012 ↑ Back to top
"ELRUS Aggregates is a great company and I am happy to be affiliated with them. I have been dealing with them fpr 10 years, they are excellent. I have been to their Cone crusher courses in Calgary and sent my staff go to the Cambridge schools."
W Randall, Dufferin Aggregates, Millcreek, ON Nov/12
"ELRUS Aggregates are pretty good and I will say hats off to Courtney – she is knowledgeable, a sharp lady with a good memory. She is good at her job."
L Gilles, Baymag Inc, Calgary, AB Nov/12
"It is really good. Doesn't matter who you phone or when you phone, someone at ELRUS Aggregates will follow-up and get back to you."
C Miller, Lafarge Canada, Saskatoon, SK, Oct/12
---
"I am extremely happy with the ELRUS Aggregate equipment. It doesn't break a whole bunch. We have tried other products and it doesn't hold up. ELRUS is the best equipment you can buy. Everything is a bit heavier, built a bit tougher, it is built right the first time. It is a good experience working with ELRUS equipment."
Woody, Diamond Ready Mix, Steinbach, MB Sep/12
"ELRUS doesn't leave until my equipment is running, so that makes me happy."
B Dick, Brett's Gravel & Crushing, Ponoka, AB Jul/12
"I have no problems with ELRUS Aggregates. We have never had a problem and they always do a pretty good job … no complaints … I have been working with them for 30 years."
Garry, Lafarge, Edmonton, AB Jun/12
---
"ELRUS Aggregate Systems are the 7/11 of the crushing industry, as far as I am concerned. When it comes to parts they have everything I need. If they don't, they will get it in within a day or two. I am really impressed with their service.It is the convenience – I can get everything I need."
Tyler, Burnco Rock Products, Edmonton, AB Jun/12
"Yes, everything ELRUS does is 100%. ELRUS Aggregates has increased my productivity."
R Kozak, Fred Kozak & Sons, Neepawa, MB Jun/12