This page contains results and reviews from ELRUS' customers about their Parts Shipping and Invoicing experience with ELRUS Aggregate Systems. Client Insight Inc. interviews ELRUS' customers across Canada and the Western USA. We are given full latitude to interview all customers based on region and sales data. The graphed results below 'speaks for itself' and provides customer insight into the ELRUS business. Read the customer stories below
Timeline: 2016 | 2015 | 2014 | 2013 | 2012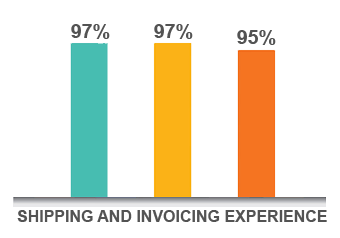 The parts arrived in a timely fashion
The right parts were shipped
Billing for Elrus partswas promptly provided
Here are Reviews of ELRUS' customers:
---
2016 ↑ Back to top
"ELRUS is really good at making sure the right parts are shipped."
Joe N, Joe Neniska & Sons Ltd, Kenora, ON Feb/16
"I call Marc and he checks out the pricing for me. He returns my call and I give him a PO and sometimes the parts come back very quickly and sometimes it takes a long time. We purchase mostly parts for our slurry pump. Yes, I am satisfied with the relationship with Marc as well as the quality of the parts."
Frank L, Carriere Regionales, Salaberry-de-Valleyfield, QC Feb/16
"We have a plant that does a lot of crushing work at Detour Gold mine by the Quebec border. ELRUS will help us by delivering the parts to the transport company in Winnipeg (before they are shipped to the Gold mine)."
Bernt Gilbertson Enterprises, Richard Landing, ON Feb/16
---
"I will give ELRUS 6 out of 5 for shipping. Kurt will personally deliver parts when he is coming home from work. We are 1.75 hours from town, so if we need parts at 3:00, we will not get them until the next day. If Kurt can bring them, then we are operational by the next morning. In this business, you only get so many days so having ELRUS delivery parts increases our uptime."
Melissa B, Farrish Crushing Inc, Listowel, ON Jan/16
"Now the billing is prompt. In the last month or so they have been direct emailing me an invoice. Winnipeg processes the order and Calgary generates an invoice. In the past, it was taking two or three weeks and now it is the next day."
Allan S, Russell Redi Mix Concrete, Russell, MB Jan/16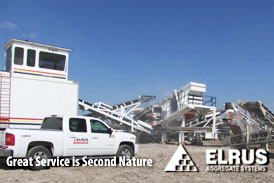 ---
2015 ↑ Back to top
"In some cases, Jarrod has run the ELRUS parts here himself – we appreciate that."
D Coderre, W.H. Coderre & Sons Construction, Stoughton, SK Nov/15
"ELRUS usually makes up the bill right away. There are no surprises – when we buy parts, it is the same thing. They also give a price invoice and we appreciate that."
Cliff F, Nelson River, Winnipeg, MB Nov/15
"ELRUS has been pretty good and they will bring my liners to site. They are good about bringing the big stuff. They will go the extra mile which is good."
Dennis C, Gravier Collet Gravel Inc, Notre Dame De Lourdes, MB Nov/15
---
"ELRUS will often deliver our parts or it comes by transfer. There are only three times they have gotten it wrong in the last 12 years – that is a good track record."
Ed S, Diamond Ready Mix Concrete Ltd, Steinbach, MB Aug/15
"Sometimes Kurt with ELRUS brings the parts by when he is on his way home. Actually, he does that a lot for us and that is convenient. The ELRUS staff also have a lot of knowledge and are helpful."
Lee W, Joe Kerr Limited, Wingham, On Aug/15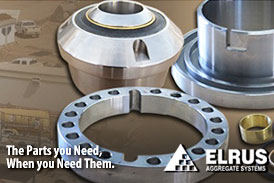 ---
"ELRUS Aggregates is providing the level of parts / consumables coverage we need."
C Harris, Stony Valley Contracting,
Fort McMurray, AB Jan/15
"If their Service Tech is coming our way, he will bring the parts and that saves freight."
D Hanson, Smook Contractors,
Thompson, MB Jan/15
"I haven't got the wrong parts yet from ELRUS."
D Gilbert, Zenith Paving,
Brandon, MB Dec/14
---
2014
↑ Back to top
"It must work or I would be hearing about it."
D Gilbert, Zenith Paving,
Brandon, MB Dec/14
"ELRUS provides a good invoice, it is very descriptive."
A Stanchuk, Russell Redi Mix,
Russell, MB Dec/14
"We will often pick up the parts ourselves but occasionally they ship direct to site. I haven't had any mix ups with ELRUS."
C Nelson, Mixcor Aggregates,
Leduc, AB Dec/14
---
"ELRUS is good about shipping the right parts and it arrives according to their delivery schedule."
J Garito, Porcupine Gold Mines,
South Porcupine, ON Oct/14
"Initially, the wrong parts were sent but it wasn't ELRUS' fault and Kurt figured it out before we received it. He called us and got it straightened out. Everything was fine."
T Crain, Crain's Construction,
Maberly, ON Oct/14
"If ELRUS doesn't have the parts, they will have them in the next day, 90% of the time. You cannot ask for much better than that."
D Wiebe, Arjon Construction,
Calgary, AB Oct/14
---
"We actually do a lot of work up north. Kurt is extremely good at getting parts out, on a last minute phone call. We appreciate that."
B Bell, APS, Kitchener,
ON Oct/14
"Rolly would be proud of the guy who is now running the ELRUS ship. They are doing an excellent job."
D Wilson, Buddwil Enterprises,
Yorkton, SK Sep/14
"You betcha ya. ELRUS is providing the level of parts / consumables coverage we need."
G Anderson, D. Ray Construction,
Beaverlodge, AB Sep/14
---
"I have only had one mess up on shipping the right parts but that was an error we both made. We got the wrong length but it was clarified and fixed right away."
D Peter, Peter Crushing,
Whitewood, SK, Aug/14
"ELRUS is now sourcing parts unique to our operation, so that is good. It has been a learning experience but they are working with me."
L Gerbrandt, Butler Brothers,
Duncan, BC Aug/14
"ELRUS is reliable for parts and shipping."
E Hegadus, Feldspar,
Lloydminster, AB Jul/14
---
"The only time we had trouble was one time the freight company sent the parts to Prince George first. Mario from ELRUS was diligent in finding the parts."
Aggregate Producer,
Northern BC Apr/14
"James goes out of his way for us. Sometimes we pick up our parts and sometimes he delivers. Customer service is #1 with James. It is not a long distance for him to deliver but I still appreciate it. ELRUS is in a very good location for the aggregate customers."
B Swiston, CPB Equipment,
Winnipeg, MB Apr/14
"Yes, sometimes I go to Saskatoon but if Jared is coming through he will bring me the parts or they will throw it on the bus."
R Prisiak, McClement Rock,
Regina, SK Apr/14
---
"We receive the right parts and even though we are all a bunch of humans and even a simple typo can result in a problem, that hasn't occurred with ELRUS Aggregates."
M Schikowky, Potzus Ltd,
Yorkton, SK Feb/14
"It doesn't matter when we phone, ELRUS will always responds. If we are out of town, James will sometimes deliver the parts or meet us halfway. It all depends on the urgency. It is very good."
C Flescher, Nelson River,
Winnipeg, MB Jan/14
"ELRUS parts coverage is good and the parts usually arrive the next morning."
R Fraudes, Pioneer Construction,
Cooper Cliff, ON Jan/14
---
2013
↑ Back to top
"Definitely, the parts arrive promptly."
J Lorensen, Bruno Contracting, Thunder Bay, ON Dec/13
"I am really happy with parts and service. ELRUS is right where we want them to be. We are really quite happy with both their service and parts."
C Miller, Lafarge Canada, Saskatoon, SK Dec/13
"That has evolved by working together. ELRUS is providing what we need."
D Desilets, SIL Industrial Minerals, Edmonton, AB Dec/13
---
"Absolutely, they are very accurate. We work together, I cannot afford a mistake."
D Phaneuf, Snake Lake Construction, Prince Albert, SK Dec/13
"Definitely, the parts arrive promptly."
J Lorensen, Bruno Contracting, Thunder Bay, ON Dec/13
"If something is wrong, they react immediately and fix it. For example if the invoice says 20 widgets and only 18 arrive, they deal with it right away and make it right. I have been very well satisfied."
J Bonnar, Colacem Canada, Calumet, QC Nov/13
---
"Yes, I am very pleased with the stock they keep on the shelf."
Aggregate Producer, Saskatoon, SK Nov/13
"There has only been once when things got screwed up and that was the shipper."
R Kelly, Hugh Munro, Kenora, ON Nov/13
"I have always gotten the right parts (shipped)."
B Laflamme, Orca Sand and Gravel, Port McNeill, BC Sep/13
---
"My calls are always returned."
Frank, City of Calgary, Calgary, AB Aug/13
"ELRUS Aggregates parts arrive on time. Kurt, he is right on board."
Brian, Vic Powell Welding Ltd, Dunnville, ON Jul/13
"They have good resources in this area, that is really handy about ELRUS Aggregates."
D Rainy, Stony Valley Contracting, Fort McMurray, AB Jun/13>
---
"My trucker will have the parts on my doorstep at 6:00 am (the next morning) so it is hard to beat that. What I like about ELRUS is that since they are out of Edmonton they have a lot more stock. I have older equipment and they have that stock available."
R Parker, W. Parker Transport, Swan Hills, AB May/13
"The parts come when the guys at ELRUS say they will come. My experience with ELRUS has been great."
S Dell, Rolling Mix, Prince George, BC Apr/13
"Rose is really good, billing is up to date now. Edmonton does it now, so billing is really up to date."
Mike, Reda Enterprises, Bonnyville, AB Mar/13
---
"Oh yeah. I know that when I call Mario that he will know precisely what I am talking about."
Ed, Marnevic Construction, Fox Creek, AB Feb/13
"Logistics, if it comes out of Calgary it could be 1-2 days; overnight if from Leduc. On odd occasions it didn't get to freight the day it was ordered, so we were delayed in receiving it."
V Halls, Kode Contracting, Prince George, B Jan/13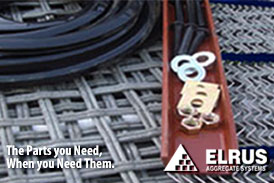 ---
2012 ↑ Back to top
"In our case, we have the older style Sandvik cones, so it is sometimes a tough thing to find. Lots has changed with newer units, more computers etc. But ELRUS has been good about looking after our current unit. It has been reasonable."
R Beatty, Ken Beatty Construction, Erickson, MB Dec/12
"I have always been able to get ELRUS parts when I needed them."
Nick, Nova Construction, Antigonish, NS Nov/12
"Definitely. There are some things they don't have in inventory but if they don't, they will give us an accurate estimate of when they can get it to us."
G Jones, Snake Lake Construction, Prince Albert, SK Oct/12
---
"We work all over the province. If we are in a bind, they will do whatever is required to help us get the parts. ELRUS is pretty good about that."
L Schlosser, G&G Crushing, Raymore, SK Sep/12
"I totally agree, I got the right parts."
Winnipeg Aggregate Producer, Winnipeg, MB Au/12
"ELRUS Aggregates ships to my site and that is very helpful."
W Laidlaw, Laidlaw Sand & Gravel, Bow Island, AB Jul/12
---
"We have never gotten the wrong thing. I have a good connection with Kurt, he has had to put up with me for 5 years".
D Carr, William Day Construction Copper Cliff, ON May/12
---