This page contains feedback results and reviews from ELRUS' customers about their equipment Purchase & Design Experience with ELRUS Aggregates Systems. Client Insight Inc. interviews ELRUS' customers across Canada. We are given full latitude to interview all customers based on region and sales data. The graphed feedback results below 'speaks for itself' and provides customer insight to ELRUS business. Read the customers' testimonials below.
Timeline: 2017 | 2016 | 2015 | 2014 | 2013 | 2012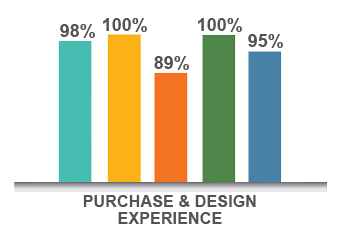 Provide a good explanation of available features/options
Telephone calls, emails & inquiries returned in a timely manner
Purchased the best equipment available on the market
Clear understanding of the equipment design before purchasing
ELRUS created an effective design for my equipment
Here are Reviews of ELRUS' customers:
---
2017 ↑ Back to top
"We bought this cone originally a long time ago. Rolly, the Founder of ELRUS, set us up with a spread in the 80s. We had the chassis and purchased a new cone. ELRUS bought it from us in June of last year. ELRUS modified it and we bought it back in December. Our relationship with ELRUS goes back 40 years. We've never had reason to go anywhere else."
Terry M, Lawrence Meier Trucking Ltd, Dunmore, AB May/17
"With ELRUS, every piece of equipment we have bought has arrived 2 weeks before the due date. And we have bought a lot of ELRUS equipment. We have three screens, a hopper and a cone. They've gotten all our business in the last 3 years and it's because of the Saskatoon branch."
Grant M, K. McIntosh and Sons, Outlook, SK Apr/17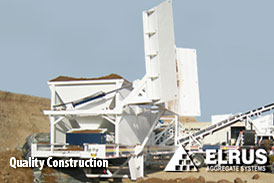 ---
"Greg Y gets a 7 out of 5! He is excellent. I have a ton of ELRUS equipment. I just bought another screen deck from them."
John C, Flesherton Concrete, Flesherton, ON Mar/17
"ELRUS has good service, the equipment is good and I like everybody there. Mike and Dawson both been very helpful and are really great to work with. Purchasing this second conveyor was 100% because of how good the first one has been for us. The equipment is reliable."
Sven L, Fraser Valley Aggregates, Surrey, BC Mar/17
"The piece of equipment I bought from ELRUS was at a good price and it is doing the job for us."
William B, Budget Environmental Disposal, Hamilton, ON Mar/17
---
2016 ↑ Back to top
"After the bid we had to ask a lot of questions and Marshall answered them right away. We wanted delivery so they sent out a mechanic to address it and didn't charge us for it. That was very helpful."
Romeo T, City of Calgary, Feb/16
"We are currently looking at purchasing a crushing plant with them. I feel that I can leave it to them and they will look after me."
Joe N, Joe Neniska & Sons Ltd, Kenora, ON Feb/16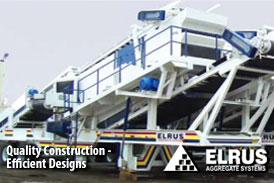 ---
"We talked about it originally and then we met with Sandvik at the ConExpo event. I have dealt with ELRUS for 30 years and my father dealt with them 10 years before that. I was comfortable to show them what I needed and they obliged with the design I needed."
Lloyd G, Butler Bros Supplies LTD, Duncan, BC Jan/16
"Ron with ELRUS was very professional. In fact every time we asked Ron a question, he would get back to us. Initially, he would call by phone and if I wasn't available, he would follow-up by email (immediately). The equipment design Ron put together met our requirements."
Judal D, Community Government of Gameti, Gameti, NT Jan/16
"Marshal at ELRUS was very good. He has always been very pleasant whenever I have talked to him and I see that as a bonus."
Doug S, Liberty Trucking Ltd, Duchess, AB Jan/16
---
2015 ↑ Back to top
"If we have any questions, Greg at ELRUS is quick to get the answers and get back to us. He talks with us frequently, not just during an equipment purchase process. All around, Greg does a good job. If there are problems, Greg jumps in and gets things sorted out. This Impactor was new for us and he has been calling to see how it is doing."
Blaine B, Aggregate Processing Services, Kitchener, ON Dec/15
"This was a used cone that we purchased. They (ELRUS accounting and financial staff) are always good. I don't do the books but their statements give us the info we need."
Ross A, Buffalo Gravel Corp, Grande Prairie, AB Nov/15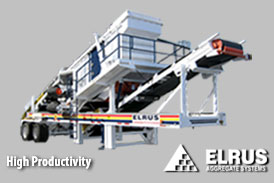 ---
"I think they did a great job of making changes and modifying their equipment to fit our needs. ELRUS is a good group to work with."
Denis O, Oldcastle Materials, Grand Junction, CO Sep/15
"I am satisfied with our purchase from ELRUS. We needed a feeder so we called and they had it."
Shayne E, Emshay Enterprises, Moose Jaw, SK Aug/15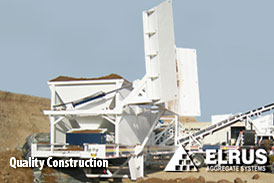 ---
"Our equipment was an ELRUS design. We had some options that we chose. We went with a 6×20 2 deck screen. It works for us. I think everything we have from ELRUS is good."
Lyle W, Venture Construction Inc, Martensville, SK July/15
"I have known Greg at ELRUS for a lot of years and he is good to deal with. He isn't there just to make the sale. He comes to talk, inform and inquire about what we need. I enjoy working with him."
Gary P, Canada Building Materials, Aberfoyle, ON July/15
"Marc at ELRUS did have some concerns on capacity and suggested a bigger crusher that really helped us out. I strongly agree that together, we created an effective design for our operation."
J Hynes, Iron Ore Company of Canada, Labrador City, NL June/15
---
"Jared at ELRUS has a lot of knowledge and he isn't just another salesman. He knows what he is talking about."
G McIntosh, K.McIntosh and Sons, Outlook, SK Mar/15
"Ron was helpful and was good to deal with. We were replacing a system to inject sand into a cavern and we had daily interactions with him. He was more than willing to answer all our questions."
J MacKinnon, Canadian Natural, Lloydminster, AB Feb/15
"Ron knows when to call and when not to call. It is all good, we have a 15 year relationship."
W Woodhouse, Stoney Valley,
Fort McMurray, AB Jan/15
---
"Barry was good to work with and now Jared has been really good and very helpful. Our relationship with ELRUS Aggregates has been really good."
C Miller, Lafarge Canada,
Saskatoon, SK Jan/15
"The purchase experience with ELRUS Aggregates was good. Jared was knowledgeable and answered our questions."
RM of Wilton,
Marshall, SK Feb/15

"We work well together. ELRUS listens and understands our equipment needs."
R Hayden,
Winnipeg, MB Jan/15
---
2014 ↑ Back to top
"I would say ELRUS' level of service is fine. I have a few Salespeople who call regularly but I don't really need that. If I need Ron or Mario, I know where to reach them. When I need something, I give them a call. I have known Ron for years."
K Anderson, Kinsella Transit Mix, Kinsella, AB Dec/14
"Yes, ELRUS listened, in fact they actually redesigned the product based on our feedback."
D Zardenic Yellowhead Aggregates, Edmonton, AB Nov/14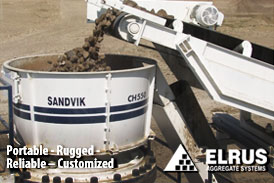 ---
"Yes, the ELRUS Salesman spent lots of time with us on this purchase. He worked for this one."
B Swistun, Birds Hill Gravel, Winnipeg, MB Aug/14
"I have known my ELRUS Salesman for so long that we have become friends and I trust him. I would rather work with someone who I know and trust."
D Urlacher, Urlacher & Sons Construct, Neilburg, SK Aug/14
"We are quite happy with the Elrus cone plant we purchased.".
J Bender, JMB Crushing, Bonnyville, AB Aug/14
---
"Our Sales Rep at ELRUS Aggregates is helpful and I see him a lot. He is about getting back to us."
F Pellack, Pellack's Crushing, Jarvie, AB Apr/14
"ELRUS has worked diligently with me. They have stood beside me and I just acquired some significant contracts."
R Ferris, C.D.R. Aggregates, Gerald, SK Apr/14
["Greg remains in contact, I will give him a 5 as he does really well at that. His follow-up is good and he is disciplined. He is really good at getting us what we want."
G Dehaan, Fowler Construction, Bracebridge, ON Apr/14
---
2013
↑ Back to top
"We had the design created for our own requirements. The ELRUS Salesman was good to work with, very informative. "
D Weber, Canadian Silica, Dawson Creek, BC Dec/13
"I have had long dealings with Mike on service (and now he is in Sales), he isn't new to us. We are extremely happy with him, he is our 'go to' guy. We still go to him quite a bit for service information. He will dig up the answers, if he doesn't already know."
V Halls, Kode Contracting, Prince George, BC Sep/13
"Ron is good, he comes out and asks questions. I am pretty happy with ELRUS. He comes to our site and sees what we need. He is willing to customize and make it work for us."
B Wenchowski, Inland Aggregates, Edmonton, AB Nov/13
---
"ELRUS' Salesman gets back to me within a day. That is good for me, he is busy and I am busy, sometimes it takes a day or two for me to get back to him. Darren is very good. "
D Gilbert, Zenith Paving, Brandon, AB. Aug/13
"Our ELRUS Salesman was very good to work with. We had him involved in helping us customize a spread to our needs."
D Kriangkum, Athabasca Minerals Inc. Edmonton, AB Aug/13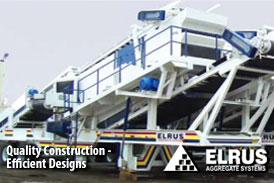 ---
2012 ↑ Back to top
"ELRUS treats us pretty good so we purchased from them. Everything seemed to click pretty good."
M Harder, Sundre Contracting, Sundre, AB Dec/12
"Barry is good to deal with. Overall, everything worked out well."
L Strocher, River Valley Contractors, Drayton Valley, AB Dec/12
"Yes, we have a pretty good experience with ELRUS equipment. Our plant has run pretty consistently. We have had the odd bit of trouble but pretty small."
L Wilson, Venture Construction Inc. Martensville, SK Oct/12
---
"I have no complaints with our ELRUS relationship. If I called them tomorrow their staff are right there. That is the important piece."
J Hutchison, San Gold Corp, Bissett, MB Oct/12
"The Salesmen is good, he is very professional.The most important thing is to have good parts and service coverage. ELRUS is doing a good job."
D Wiebe, Arjon Construction, Calgary, AB Jul/12
"Greg does more than most Salespeople people. He will help us put proposals together, he checks things out, researches for us, follows up and answers our questions."
D Day, William Day Construction, Copper Cliff, ON May/12
---
"The ELRUS rep did all the interaction with Engineering … it worked well. He goes to the engineers with the understanding of what we want to accomplish."
T Meier, Lawrence Meier Trucking, Medicine Hat, AB May/12
"We told our Salesman what was good and what needed to be better. He took the information back to their Design Group and ELRUS designed the new equipment for us. ELRUS got it right and it worked."
R. Spaidal, Lafarge, Surrey, BC Apr/12
"ELRUS does a good job. They are very knowledgeable about crushing equipment. It is movable and that allows me to do a medium sized job … I need the flexibility. Maintenance is also a consideration. I have spent very little maintenance cost on the screen deck. I think I have the best system going."
M. Pidherney, Pidherney's Trucking Ltd, Rocky Mtn House, AB Mar/12
---
"ELRUS' Salesman was good to work with. He took me through everything, showed me the pieces I would be getting. I am new to the industry so Barry told me what I needed to have in stock. Downtime is a killer, you need to see ahead, or have the parts on hand."
B Dick, Brett's Gravel & Crushing, Ponoka, AB Feb/12