ELRUS Equipment Has Increased Our Operational Productivity
This page contains feedback results and reviews from ELRUS' customers about the impact of using ELRUS equipment on their operations productivity. Client Insight Inc. interviews ELRUS' customers across Canada. We are given full latitude to interview all customers based on region and sales data.
Timeline: 2017 | 2016 | 2015 | 2014 | 2013 | 2012

Here are Reviews of ELRUS' customers:
---
2017
↑ Back to top
"Using ELRUS equipment has increased our operational productivity. The old equipment was wearing out, and we had a lot of maintenance issues with it. So now with a new machine, we have no maintenance issues. The new Grizzly has eliminated our plug ups."
Kevin M, Baymag Inc, Exshaw, AB Dec/17
"Ron at ELRUS sold me the jaw that is double the size of my old one, so my production has probably gone up by 1/3 or 1/2."
Albert L, Ruel Concrete, Peace River, AB Nov/17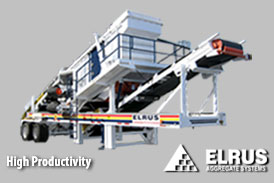 ---
"We've experienced 30% more productivity since purchasing the ELRUS equipment."
Kenny W, Wood's Crushing and Hauling Inc, Sandpoint, ID Oct/17
"We are up a good 10% in production, maybe even more since purchasing the crusher from ELRUS."
Jeff C, R.W. Tomlinson Limited, Ottawa, ON Oct/17
"We've seen increases in our productivity using the cone crusher, maybe 10-15%. You can't hold me to that but there has definitely been an increase."
Sean H, Hawaiian Cement, Aiea HI Oct/17
---
"With the new ELRUS equipment, we have increased our production by 25% and our downtime has really been almost nothing. We are doing a lot of work with that cone – it is doing the work of two cones."
Brian W, Wood's Crushing and Hauling Inc, Sandpoint, ID Sep/17
"We were just calculating the a difference the ELRUS cone crusher has made in productivity recently and we are up about 10% in production."
Andrew R, R.W. Tomlinson Limited, Ottawa, ON Sep/17
"We went from a totally different type of system and we did our homework before buying the ELRUS equipment. From what we were doing before, we have doubled our production. We had a smaller tracked plant before and now we have a much larger portable one."
Wayne A, LTL Contracting Ltd, Shuniah, ON Sep/17
---
"We haven't had down time. Production levels have been exceeded. I am very satisfied with the ELRUS product. The model I have now is quite a bit bigger than the previous one so in that sense, it is to be expected that productivity has increased. I can't really say a percentage but it is exceeding production levels and I'm really happy with it."
Joey W, Werbicki Bros. Hauling Ltd, The Pas, MB Jun/17
"I'm thinking because of this training by ELRUS, we have improved 50-100 tonnes per hour during operating hours. I'd have to go and check the numbers, but that's what I am thinking it has been for us."
Bevin, Iron Ore Company of Canada, Labrador City, NL May/17
"I would say ELRUS equipment has brought our productivity up by 50%."
Mario T, Alvin Caldwell Sand and Gravel, New Liskeard, ON Apr/17
---
"I would say our productivity has increased by 40% with the ELRUS jaw crusher. We weren't really crushing in the past, so our sorting process is a lot quicker now because we are putting it through the crusher."
William B, Budget Environmental Disposal, Hamilton, ON Mar/17
"We went from old garbage equipment that would do 900 tonnes a day to our shiny white current plant which does 500 tonnes an hour. That specific cone plant doubled production from 220 an hour to 350 – 450 tonnes an hour."
John C, Flesherton Concrete, Flesherton, ON Mar/17
"We have definitely had more crushing time and less down time. I'd say it has been a 70% increase in productivity with the feeder screen plant from ELRUS."
Kent N, Valley Rock Construction, Birtle, MB Mar/17
---
2016 ↑ Back to top
"ELRUS equipment is better than what we had. It's not wearing out, and maintenance is low."
Glenn S, 644735 Ontario Ltd (Snow Bros), Erin, ON Nov/16
"Yes, ELRUS equipment has increased our productivity. We have more uptime, less downtime and more tons at the end of the day. I'd say it has increased our tonnage by at least 10%."
Adam T, The Sarjeant Co. LTD, Barrie, ON Oct/16
"Yes (it has) because we've gotten bigger. We are a growing company. We now have four complete crushers, and almost all our equipment is ELRUS now. We were loyal to their competitor but since we started buying ELRUS equipment in 2013, I think we've spent over $2 million, and we've got more big purchases coming up. We've noticed a difference between ELRUS and their competitor. When ELRUS says they are going to do something, they have it done when they say so."
Grant M, K.McIntosh and Sons, Outlook, SK Sep/16
---
"Yes the new ELRUS equipment has definitely increased our productivity. I would say it has improved our crushing time by 20%."
Paul S, West Central Contracting Ltd, Hinton, AB Aug/16
"It has vastly improved our productivity! Because we are a feedlot, and before the conveyor, we were working   from 8:00-5:00 with three feed trucks. Now with the ELRUS conveyor, we can do the job from 8:00-3:00 with one truck. It has made a huge difference for us."
Matt M, Buffalo Plains Cattle Company, Moose Jaw, SK Jul/16
"We've doubled our production with ELRUS equipment, and we are putting out better product now too."
Demetrius T, Geransky Brothers Construction, Martensville, SK Jul/16
---
"We are a small outfit but I would say that it has (increased productivity). We have not broken down."
Trent S, Silver Eagle Excavation, Biggar, SK Jun/16
"Yes, the feeder screen jaw skid has increased our productivity."
Clarence M, Community Government of Wekweeti, NT Apr/16
"Yes, ELRUS' equipment has increased our productivity. Their equipment is easier to run and requires less maintenance."
Lee W, Joe Kerr Limited, Wingham, ON Mar/16
---
"Regarding the Trailer, the tower is great. We were looking for the ability to upsize our capability. We wanted the ability to add more conveyors, so we needed more buttons and boxes to hook into. This ELRUS Control Van is great as it gives us the freedom to add more belts as our needs require."
Frank S, City of Calgary, Feb/16
"Yes, it certainly has. We got a quote for getting material crushed and one company quoted between $800K and $1,000K. They would have to bring in equipment and leave it here for the summer. We ended up buying the equipment from ELRUS for $300K, it did the job and we still own the equipment. It is a great thing."
Judal D, Community Government of Gameti, Gameti, NT Jan/16
"That screen unit is high output and I think we will get the capacity for sure."
Doug S, Liberty Trucking Ltd, Duchess, AB Jan/16
---
2015 ↑ Back to top
"Yes it has. We have some of the other brands of equipment. This Impactor seems to be doing a fabulous job and the same with the screen plants."
Blaine B, Aggregate Processing Services, Kitchener, ON Dec/15
"I would say yes. We have had ELRUS equipment before and with these units we have gone up a size. The increased production that we have experienced is similar to what they said it would be."
R McIntosh, McIntosh Crushing & Aggregate, Montmartre, SK Dec/15
"I think it has increased our productivity. ELRUS builds good products."
Lenny G, Lafarge Canada Inc, Ft. McMurray, AB Nov/15
---
"We actually wanted to be more aggressive on the closed side settings of the jaw with this unit and so far, it is doing exactly what we wanted it to do. Our productivity has increased a little bit."
Denis O, Oldcastle Materials,
Grand Junction, CO Sep/15
"Our equipment from ELRUS is doing a good job. Production has been good."
Mike S, Front Range Aggregates,
Castle Rock, CO Sep/15
"On that point, it definitely has increased our production. We had an old jaw that had been through the mill. The new jaw that we have from ELRUS is a smaller unit. This ELRUS jaw is faster to move and better production Their equipment looks awesome."
Danny K, Oldcastle Materials,
Grand Junction, CO Sep/15
---
"For sure ELRUS equipment has increased our productivity, as you can make bigger stockpiles with them. You don't have to have a rock truck close by."
Garland S, Birds Hill Gravel & Stone Ltd,
MB July/15
"Using ELRUS equipment has kept us steady, so we don't have to move material so much."
Brian L, Lafarge Canada,
Lethbridge, AB July/15
"I would say for sure using ELRUS equipment has increased our productivity."
Lyle W, Venture Construction Inc,
Martensville, SK July/15
---
"We have surpassed our production requirements. We had stationary equipment and now with the bigger ELRUS crusher, we have the flexibility to create a wider stone size and a higher level of production. Our cost per ton has been cut by half."
J Hynes, Iron Ore Company of Canada,
Labrador City, NL June/15
"I think our productivity has increased with ELRUS' equipment. I like the way everything is built – it is top of the line."
C Barsi, Barsi Enterprises Ltd,
Mayerthorpe, AB May/15
"I would think so. I have used a few other screen decks in my day and this ELRUS Screen Plant is more efficient".
C Garopy, Lafarge Canada,
Saskatoon, SK Feb/15
---
"The system that we have with ELRUS Aggregate works really well. We don't have a lot of issues, but when we do, their solutions are pretty quick."
C Miller, Lafarge Canada, Saskatoon, SK Jan/15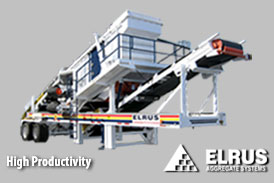 ---
2014 ↑ Back to top
"I would say that it has, as I replaced an older and smaller feeder unit."
K Anderson, Kinsella Transit Mix, Kinsella, AB Dec/14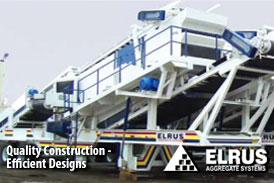 ---
2013 ↑ Back to top
"It definitely has for us. The design of the belting, rollers and head pulleys are much better. Our maintenance has gone to almost zero. It was a definitely a good purchase for us."
D Weber, Canadian Silica, Dawson Creek, BC Dec/13
"We have different pits and move around. The source material determines our efficiencies. When we are in good gravel, ELRUS equipment puts out."
B Wenchowski, Inland Aggregates, Edmonton, AB Nov/13
"Yes I agree. It is more money but in the big picture, a lot of the competitors options are standard on ELRUS equipment. You have to do a full comparison. You get a lot more with ELRUS equipment as an example, hydraulics on side shifts of cone feeds."
R McIntosh, McIntosh Crushing & Aggregates, Montmartre, SK Oct/13
---
"In some pits. I don't think it has increased our production, but it has reduced our down time."
D Gilbert, Zenith Paving, Brandon, AB. Aug/13
"I am not sure, this is the only crusher we have currently. It has been operating very well but I think we are still in the discovery stages."
D Kriangkum, Athabasca Minerals Inc. Edmonton, AB Aug/13
"We went up a size but ELRUS aggregate equipment is also heavier built, exp: where the competition use a 2 3/16 shaft, ELRUS will use a 2 7/16 shaft. ELRUS also provides really good service. The new branch in Saskatoon is huge for us."
G. McIntosh, K McIntosh and Sons, Outlook, SK May/13
---
"Because of ELRUS' quality of service, parts and equipment, they are the best in the industry. ELRUS' spreads will cost less money to maintain and operate than anyone in the industry. I have run a lot of different plants."
K Smith, Highway Rock Products, Calgary, AB May/13
"This is our first crusher. I don't know if others are more productive, but I find it hard to believe that they could be. After five years of ownership, I have had no issues."
S Flasha, Paul Flasha Contracting, Whitecourt, AB Feb/13
"ELRUS has been very good. I started out with ELRUS and they keep showing me more."
B Dick, Brett's Gravel & Crushing, Ponoka, AB Feb/13
---
"Quality of equipment. ELRUS quality results in more up time for us, which means higher productivity. Making money is what it's about."
B Giesbrecht, Diamond Ready Mix, Steinbach, MB Jan/13
---
2012
↑ Back to top
"You don't always know but one thing is certain, ELRUS has gotten us out of jams pretty good. They are pretty good, they will help us out."
M Harder, Sundre Contracting, Sundre, AB Dec/12
"That was the whole idea of purchasing this unit, and yes, it definitely has improved our situation."
M Hidber, Skeena Gravel Products, Terrace, BC Dec/12
"We make our money on production, so it is worth a lot (to have access to a strong Service Tech). If Mike isn't available, he is worth waiting for."
C Mutter, Lafarge Canada, Coquitlam, BC Nov/12
---
"We have minimal downtime with ELRUS equipment, it is heavier built."
Woody, Diamond Ready Mix, Steinbach, MB Sep/12
"Yes, everything ELRUS does is 100%. ELRUS Aggregates has increased my productivity."
R Kozak, Fred Kozak & Sons, Neepewa, MB Jun/12
"It is all about production. I am very happy with Sandvik, it works well. ELRUS is bringing the pieces together, designing it and doing a good job. It works. Their designs are good… if someone wants a custom job ELRUS will design it and make it work."
M. Pidherney, Pidherney's Trucking Ltd, Rocky Mtn House, AB Mar/12