ELRUS Aggregates Systems is an original equipment manufacturer OEM that has spent the last 40 years developing and improving their Site and Shop Service to the aggregate crushing industry. Part of that improvement has resulted by listening to customers, hearing what their operational challenges are and working together to collaboratively create a better service offering.
Review the results below, read customer's testimonials and use the links to find out why ELRUS Aggregates Systems could be a great supplier of Service support to your aggregate crushing business.
---
Service Overall Impression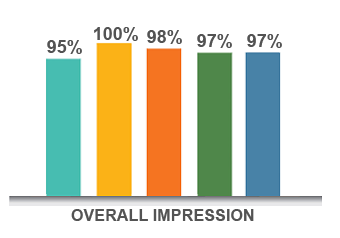 Satisfied with the service experience
I will continue to have ELRUS service our experience
I will recommend ELRUS to industry associates & partners
Satisfied with the quality of service provided by ELRUS
ELRUS can be called upon "to get us out of a bind"
The above Chart shows the results of Overall Impression questions asked of ELRUS' customers. For example, 98% of equipment customers interviewed since Mar, 2012 would refer ELRUS to industry associates and partners.
Click the link to Read more customer reviews and stories
WHAT CUSTOMERS SAY
"I think ELRUS does good work. Everything went well, I can't think of how it could have been better."
Jon L, Lafarge Canada Inc, Calgary, AB Jan/17
"I give full credit to Mike at ELRUS. He came out to do a routine inspection, spent about 2 hours, and helped a lot to set up the service. The site service went well and previously, we've had good service too."
Neil G, Hub City Paving Ltd, Nanaimo, BC Oct/16
"ELRUS has since been back to repair our standby pump and they will have the pump sent to them for overhaul in the winter. I find the ELRUS guys great to work with. In this industry, you have to have the quality of service in a timely manner."
Vince F, Lafarge Canada, Fonthill, ON Aug/15
---
ELRUS Aggregate Systems can be called to "show up and get us out of a bind"


ELRUS has a strong group of Service Technicians and Parts staff to get your equipment back up and running. 97% of customers asked said that "ELRUS will show up and get them out of a bind."
Click the link to Read more customer reviews and stories
WHAT CUSTOMERS SAY
"I was in a really big bind once, and an ELRUS guy came out. He was a technician and he was really helpful. He knew about our jaws."
Greg B, Vihar Construction Ltd, Smithers, BC Dec/16
"One time we had a bearing blow, and ELRUS came on site the same day with a new bearing and a technician to do the repair. We were up and running the next morning so we were only down 3/4 of a day. That is really important for us."
Stephan F, Tollestrup Construction, Lethbridge, AB Jul/16
"We had trouble with the computer on our cone and talked with the ELRUS boys. Our company didn't want to buy the updated version of the computer so the ELRUS guys went to work and found the pieces and parts from another customer. That allowed us to fix our computer and keep going. They found us a solution and saved us a lot of money."
Vic D, Mulder Construction & Materials Ltd, West St Paul, MB Dec/15
---
Service Deployment & Invoicing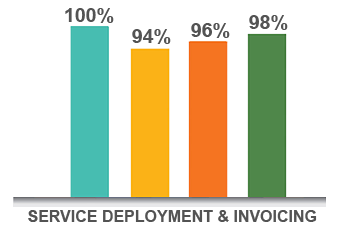 ELRUS' service Tech arrived on schedule
ELRUS' Service Tech was competent & able to diagnose the problem
He was focused & able to repair the issues in a reasonable time period
ELRUS remained on site until equipment was working to our satisfaction
The above Chart shows the results of what customers experience in the service deployment and invoicing experience of ELRUS Service. For example, 100% of customers interviewed since Mar, 2012 say that ELRUS' Service Tech showed up on schedule.
Click the link to Read more customer reviews and stories
WHAT CUSTOMERS SAY
"ELRUS was able to tell me things that I did not know. Thor had the diagnostic tools we needed to show us what was happening. He almost has a mobile machine shop with him and he could tell me what was worn and what was not worn out. I could adjust my operations based on his advice. Thor told us exactly what we needed to do – it was good."
Bernt Gilbertson Enterprises, Richard Landing, ON Feb/16
"It was a good quote. ELRUS finished the project within $2K of the initial estimate and they added a few things along the way. It was a 3 – 4 week job. They put an extra guy on it and got it done in 2 weeks."
Norm A, River Valley Crushing, Barrhead, AB Dec/15
"ELRUS' initial rough estimate for our Shop Service was easy to understand. The tear down was quick and the final bill came in marginally under their initial quote."
C Chalmers, Mixcor Aggregates Inc. Leduc, AB Feb/15
---
ELRUS'after hours' parts and repair service"

Many of ELRUS' customers operate their aggregate production spreads 24 x 7. They depend on ELRUS Branches to supply them with the parts and consumables they need. 95% of customers say they are satisfied with ELRUS 'after hours' service.
Click the link to Read more customer reviews and stories
WHAT CUSTOMERS SAY
"I deal directly with John or Greg Y at ELRUS after hours. It can be 10:00 at night and they are there for me."
Dan M, Aggregate Customer, Jan/17
"We have had to call ELRUS after hours several times. They always answer and they've gotten us what we need right away. They are really good about that."
Jordan F, McLeod Valley Sand & Gravel, Edson, AB Dec/16
"I have phoned James with ELRUS at midnight and he will do everything he can. I am way out of town and I will give him a call and he will meet me halfway. There are not many companies who will do that. With James it has always been good."
Cliff F, Nelson River, Winnipeg, MB Nov/15
---