ELRUS Aggregates Systems is an original equipment manufacturer OEM that has spent the last 40 years developing and improving their Site and Shop Service to the aggregate crushing industry. Part of that improvement has resulted by listening to customers, hearing what their operational challenges are and working together to collaboratively create a better service offering.
Review the results below, read customer's testimonials and use the links to find out why ELRUS Aggregates Systems could be a great supplier of Service support to your aggregate crushing business.
---
Service Overall Impression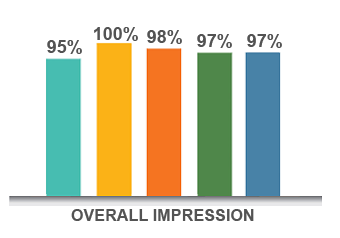 Satisfied with the service experience
I will continue to have ELRUS service our experience
I will recommend ELRUS to industry associates & partners
Satisfied with the quality of service provided by ELRUS
ELRUS can be called upon "to get us out of a bind"
The above Chart shows the results of Overall Impression questions asked of ELRUS' customers. For example, 98% of equipment customers interviewed since Mar, 2012 would refer ELRUS to industry associates and partners.
Click the link to Read more customer reviews and stories
WHAT CUSTOMERS SAY
"Everything went very well. I don't think anything could have been done better with the service by ELRUS. I would like the guys that do the work to know that we appreciate what they do for us."
Collin C, A.G. Baxter Contracting Co Ltd, Calgary, AB Nov/17
"I think the ELRUS Service Tech was Brent M.  He was very helpful and informative. I got the new sales guy, Jason, and he has been amazing. He comes to site whenever he is around here, and he asks me if I need anything. He calls me once a month so he is very on top of things. One time I needed something right away, and he was coming this way, so he brought it with him for me. I think that has happened more than once actually."
Stephan F, Tollestrup Construction, Lethbridge, AB Nov/17
"I call Kris at ELRUS. He is always my first call about everything. I haven't had to call for service after hours, but I phone Kris to talk about things, and he gets back to me right away."
Marty H, Westlake Paving & Agg. Ltd, Kelowna, BC Nov/17
---
ELRUS Aggregate Systems can be called to "show up and get us out of a bind"


ELRUS has a strong group of Service Technicians and Parts staff to get your equipment back up and running. 97% of customers asked said that "ELRUS will show up and get them out of a bind."
Click the link to Read more customer reviews and stories
WHAT CUSTOMERS SAY
"Several times ELRUS has helped get us out of a bind. One time, we shattered a cone and they had parts and service people up here within days and had us back up and running. ELRUS bent over backwards to get us back on track. They have rushed things to us. They have been great."
Joe D, BBE Hydro Constructors LP, MB Nov/17
"We bought a feeder one time, a few years ago, and there was a factory defect. I called ELRUS on a Friday night, I talked to Thor, and he called the guys in Calgary, and overnight they had addressed my problem. Everyone there Darren, the guys at the desk, Thor, they are really great."
Ron F, Sigfusson Northern, Lundar, MB Nov/17
"We have been in a bind with some cone parts and Kurt or Kyle with ELRUS are right on it. There is another guy, Greg S, who took parts off another machine for us so we could get them right away and get back up running."
Mario T, Alvin Caldwell Sand and Gravel, New Liskeard, ON Oct/17
---
Service Deployment & Invoicing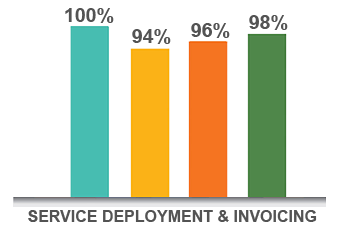 ELRUS' service Tech arrived on schedule
ELRUS' Service Tech was competent & able to diagnose the problem
He was focused & able to repair the issues in a reasonable time period
ELRUS remained on site until equipment was working to our satisfaction
The above Chart shows the results of what customers experience in the service deployment and invoicing experience of ELRUS Service. For example, 100% of customers interviewed since Mar, 2012 say that ELRUS' Service Tech showed up on schedule.
Click the link to Read more customer reviews and stories
WHAT CUSTOMERS SAY
"ELRUS was able to tell me things that I did not know. Thor had the diagnostic tools we needed to show us what was happening. He almost has a mobile machine shop with him and he could tell me what was worn and what was not worn out. I could adjust my operations based on his advice. Thor told us exactly what we needed to do – it was good."
Bernt Gilbertson Enterprises, Richard Landing, ON Feb/16
"It was a good quote. ELRUS finished the project within $2K of the initial estimate and they added a few things along the way. It was a 3 – 4 week job. They put an extra guy on it and got it done in 2 weeks."
Norm A, River Valley Crushing, Barrhead, AB Dec/15
"ELRUS' initial rough estimate for our Shop Service was easy to understand. The tear down was quick and the final bill came in marginally under their initial quote."
C Chalmers, Mixcor Aggregates Inc. Leduc, AB Feb/15
---
ELRUS'after hours' parts and repair service"

Many of ELRUS' customers operate their aggregate production spreads 24 x 7. They depend on ELRUS Branches to supply them with the parts and consumables they need. 95% of customers say they are satisfied with ELRUS 'after hours' service.
Click the link to Read more customer reviews and stories
WHAT CUSTOMERS SAY
"I have definitely called ELRUS after hours. I have actually phoned Dawson on a Sunday on his day off, and had him show up on site with our parts to get us going. He has gone above and beyond to help us out. I like dealing with Dawson. He has gone out of his way to get us what we need."
Josh K, Mainland Sand & Gravel ULC, Surrey, BC Nov/17
"I call Kevin at ELRUS a lot. He emails me and gets the ball rolling. As soon as I am awake the next day, he has answers for me on getting me what I need. We have such a short construction season up here, so when we are going, we are going around the clock. And beyond Kevin, I have talked to Brent a lot for service advice and he has also been very helpful."
Aaron S, Heritage Rock & Services, Delta Junction, AK Nov/17
"James at ELRUS will answer his phone anytime of day or night, weekends. We work 350 days a year here on a remote site. There is no such thing as a weekend for us. I am calling him at 6:00 am on a Sunday and he will make things happen. He has taken parts to the airport and gotten them onto air transport for us to get it the same day. We are high maintenance and very demanding. He has done that more than once for us."
Joe D, BBE Hydro Constructors LP, MB Nov/17
---