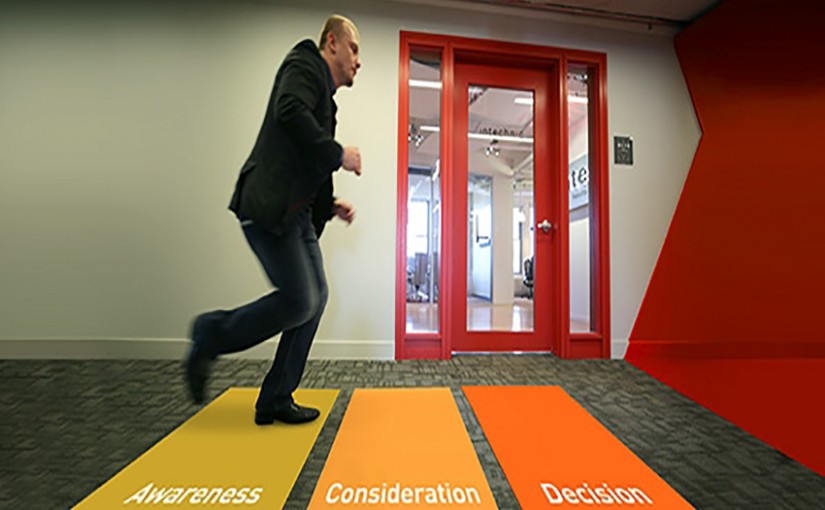 Photo Source: Intechnic
According to Walker, a customer intelligence firm, "By 2020, Customer Experience will be the key differentiator, over price or product." For many B2C (business to consumer) companies, there is a growing emphasis on improving the customer experience to gain market share over competitors.
Mapping the customer journey is crucial for any company seeking to improve that customer's experience, at every touch point along the way.  The customer's journey can be described broadly as occurring in three phases:
Awareness
The very first step in every customer's journey is an awareness of a problem. Something is missing, broken, falling apart, dated, their needs have changed, their lifestyle has changed and now the customer is aware that a change is needed. A new product or service must be found.
The hunt begins for a solution to the customer's problem. This is the research phase. Using the internet, their own networks, social media, google reviews and other review sites, they begin to narrow their search to a few possibilities. They have been refining the solution they want as they have learned more about what their options are.
Consideration
Armed with information, recommendations from their connections, and a better sense of what they want, customers enter the "Consideration" phase. They begin visiting stores, checking out the products directly, or paying close attention to "testimonials" for services on websites. The shortlist is getting shorter.  
Decision
Finally the customer decides on the best solution, the best product, service or strategy to address his or her problem. Along the way, they may have had several touch points across several channels within the company they eventually choose for their purchase. Each and every one of those touch points is a key part of that successful "sale". According to the CX experts at NICE, if you can connect customer data across channels, understand the context of every touchpoint, and use this information effectively, then you can optimize each step of the way to improve your customer experience.
At Client Insight Inc., we gather valuable and actionable customer feedback through phone conversations with customers. Our questions and the answers we obtain help our clients understand the full customer experience, and all the factors that contribute to their customers' decisions to purchase.
If you would like to know more about the link between customer experience mapping and customer feedback, give us a call.

Listen – Measure – Improve, it's a profitability strategy for your company.