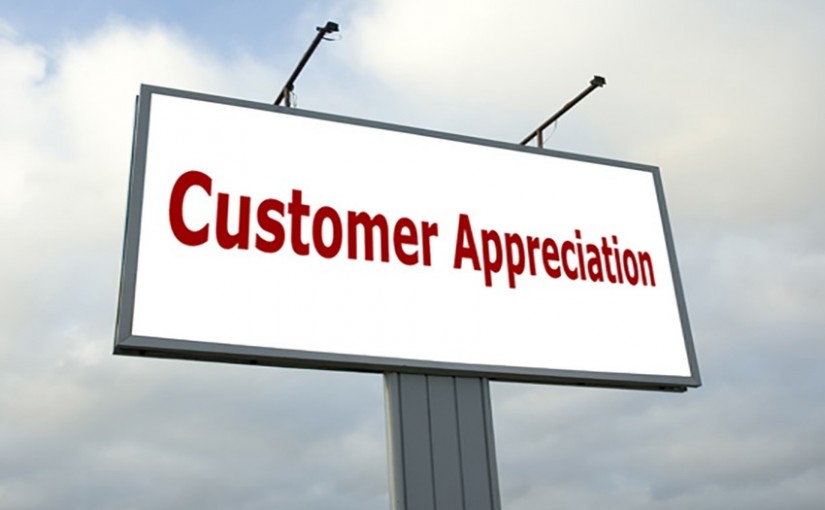 Many businesses have "Customer Appreciation Day" events and sales. Sometimes, it is a Customer Appreciation Week. Companies and customers tend to associate "appreciation" with getting a bargain, a discount, some kind of measurable benefit at the cash register.

But is this the most effective way to show your customers how much you value them?
When you think about it, you have a relationship with your customers, and so you might want to consider how you communicate appreciation in your personal relationships. When you appreciate someone, you show them by thanking them, by giving a gift, by talking to them and telling them how much they matter to you. Appreciation is an expression of gratitude. Imagine giving your teenage son the equivalent of a "discount" as a way of "appreciating" him by telling him he only has to take out the garbage 3 days this week instead of five. He might not feel appreciated.
At Client Insight Inc., we talk directly to our clients' customers, and we have discovered that these phone conversations are a significant way of letting customers know that they matter. In our final question, we ask customers if they value the opportunity to provide their feedback. Here are a few things we have heard customers say in response.
Yes because I started to think that my Supplier didn't really care. This call shows that they care and want to know how my project turned out.

Yes I appreciate the fact that my Supplier is looking for feedback. Part of my own job is quality control, and I deal with customer complaints. Having the opportunity to talk about it is good. I appreciate the fact that my Supplier has hired a third party, it shows me they care what customers think and they want to do a better job.

Definitely. I think it is very important that they hear honest feedback from their customers because I have spent several million with my Supplier in the last few years, so I think I should have a say in how they are dealing with us. The fact that they are asking you guys to call me is very impressive.

Yes absolutely. It is nice to have a say in something, and I also think it is good that my Supplier cares enough to want to know what we think.

Yes because I know they have taken some of my advice and made changes in the past, on rental

contracts. This shows their respect towards their clientele. They take an interest from top to bottom of the cycle. You can tell it is a family business because of how they operate with their customers.
In just these few examples, we learn that customers interpret customer feedback calls as showing the company "cares", "they take an interest", "this shows respect towards their clientele", "they want to know how my project turned out," and a third party phone call "is very impressive."
Having a third party call your customers shows them that you want to hear from them in order to address problems and make things better. You want honest feedback so you are having an unbiased third party ask them questions like, "What is one thing that could have improved your experience?" Then we tell them that their Supplier values their suggestions and has made improvements based on the feedback.
When customers know that your company cares enough to get the full story on their customer experience, they really do feel more appreciated than when they get a 10% discount one day a year.
If you would like to learn more about how Client Insight can help you appreciate your customers, give us a call.
At Client Insight, every day is customer appreciation day.

Listen – Measure – Improve, it's a profitability strategy for your company.