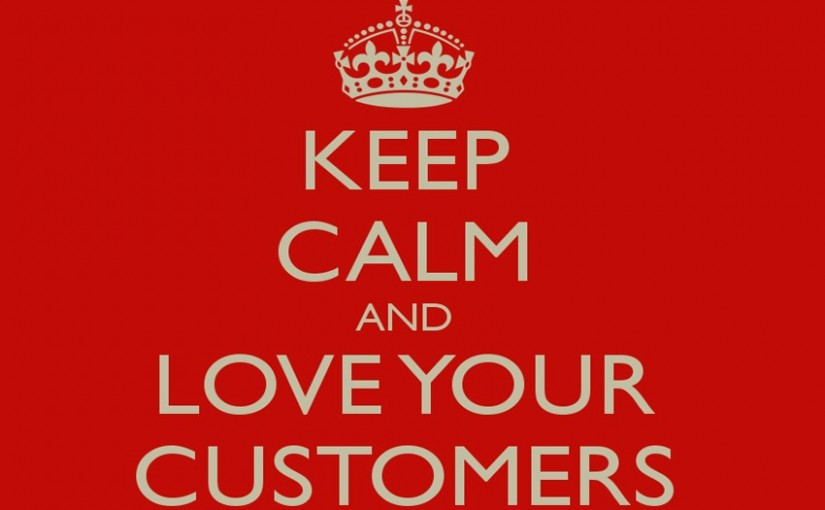 If you think about your customers not as revenue units but as people, you are probably more open to think about how you can actually "love" your customers.
"Love?" you ask.
Yes love.
If you think about how you feel when you bring a smile to your customer's face or a look of surprise, an exclamation of "Wow!", then it means you have reaped the reward of "loving" your customer.
In the context of dealing with customers, "love" is appreciation. Appreciating your customers is part of building customer relationships that go beyond a single transaction.
How can you show your customers that you love them?
Make it a goal for your company, from the top down, to make every day "Love Your Customer Day."

Know your customers' names.

Know their pain points and acknowledge their pain. When your customers feel understood and acknowledged, they feel validated and appreciated.

Be accessible by answering and returning calls and emails quickly.

Be sincere in your conversations with customers.

Be a problem solver when they complain or raise concerns.

Be appreciative. Let your customers know that they are more to you than just a sale. Consider investing in

client appreciation strategies and programs such as annual Christmas gifts.
The best part about showing your customers extraordinary attention and appreciation is that is helps you stand out from your competitors, and your customers will remember those great moments of interaction with your staff.
If every day is "Love Your Customer Day," then cultivate that idea with your employees by loving and appreciating your employees first so they understand the power of that. Then they will be more motivated to pass it on to your customers.
Furthermore, when employees come to understand that they aren't "selling products" as much as they are "solving problems", it will help them to approach customer relationships with a different mindset.
At the end of the day, we all need to feel appreciated and loved.
Client Insight Inc. has experience and expertise in talking to our client's customers, and we hear about the love going both ways. Customers feel valued and appreciated when your company actively seeks to obtain their feedback. Talking to your customers shows them that you care about the relationship enough to hear the positive and the negative comments, in order to improve your company.
If you would like to learn more about how obtaining high quality feedback from your customers will help them feel more loved and appreciated, give us a call.
We're in the love business.

Listen – Measure – Improve, it's a profitability strategy for your company.