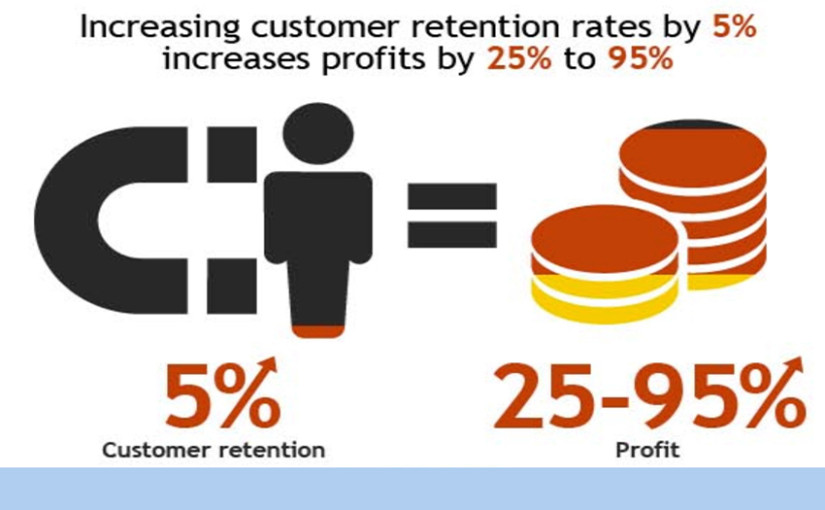 Have you connected the dots between your customer retention and your bottom line?
Marketing data revealed from surveys of major companies reveals that there is a direct financial correlation between Customer Retention and Profitability for your company.  Consider  these frequently cited marketing numbers:
A 5% increase in customer retention can increase a company's profitability by 75%.
80% of your company's future revenue will come from just 20% of your existing customers.
The probability of selling to an existing customer is 60-70%, while the probability of selling to a new customer is 5-20%.  
These numbers reinforce the need for your company's marketing budget to go beyond a focus on gaining new customers with the latest digital and data driven strategies.  It may be time to beef up your Customer Feedback/ Customer Loyalty / Customer Appreciation  spending.
Successfully cultivating existing customers has a significant effect on your company profitability.  They are your best source for new sales. They are your best source for positive referrals to potential new customers.  Your goal should be to move all your current customers into the category of highly positive "Net Promoters."
At Client Insight Inc., we have helped our clients achieve increased profits through our ability to gather robust customer feedback.  Key to their results was how they took appropriate actions on that valuable customer feedback, resolved issues, improved services, and cemented customer relationships.
If you would like to add profitability-focused customer feedback to your marketing mix, please call Client Insight Inc.  We can help you improve your customers' role in your bottom line.


Listen. Measure. Improve. It's a profitability strategy for your company.
(Infographic and data source: http://www.invespcro.com/blog/customer-acquisition-retention/)