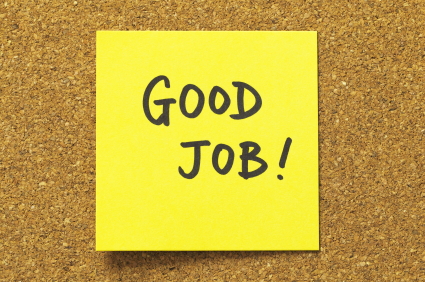 Sometimes the smallest actions can initiate huge results. Take customer feedback, for example.
What if your customer provides very positive feedback about an interaction with a particular employee? What if the employee went 'above and beyond' to make this customer happy? What if the employee found out how the customer reacted to their excellent service?
In a BAIN & Company paper titled Rewards and Recognition in the Net Promoter System®, Rob Markey talks about the importance of passing on positive customer feedback to employees who produced the feedback.
He recommends getting it back to the employee as soon as possible too.
Why is this so important?
Because customer feed-back tends to be overwhelmingly positive. Many people mistakenly assume that customer feedback consists primarily of complaints. Actually, that isn't true.  Front line employees hear significantly more positive feedback than complaints. But when the company gathers customer feedback, comments about positive service experiences should be relayed back to the employees involved. That feedback can be leveraged to benefit both the employee and the company.
By ensuring employees learn about the difference they made for a customer, you are reinforcing desired behaviour in your employees. They experience significant job satisfaction by knowing that they made a customer's life better. Positive feedback also motivates them to continue to provide excellent customer service. Not only are these regular small victories appreciated by the employee, but they are doubly valuable as the positive feedback is being relayed to them by a manager or supervisor. Small immediate rewards are more meaningful to employees than many other company "perks".  Knowing they are making a difference and bringing value enhances an employee's sense of life purpose as well as job satisfaction.
This is a Win-Win-Win. It is a win for your customers who will continue to receive positive customer service experiences. It is a win for your employees who feel more motivated and reinforced in the extra efforts they take to please customers. It is a win for your company as it builds a more loyal and a more profitable customer. You will have happier customers and more motivated employees.
Companies with a Net Promoter System that gathers customer feedback should also take seriously the valuable role that feedback can play in employee engagement. Pass along those high fives from your customers to the employees who earned them and tap into the natural instinct we all have to make other people happy or satisfied.
If you would like to learn more about how Client Insight Inc. can help you gather quality customer feedback, and pass it back to your employees, contact us.


Listen. Measure. Improve. It's a profitability strategy for your company.