ELRUS Aggregates Systems is an original equipment manufacturer (OEM) of aggregate equipment that is serious about customer satisfaction. For a business in the aggregate crushing industry to be profitable, it must maximize uptime, as downtime kills profitability. ELRUS builds dependable equipment, stocks a wide array of critical spares, parts and consumables and has Service Technicians available 24 x 7 who know how to repair the equipment they sell and service.
To measure their customer satisfaction results and improve their profitability, ELRUS hired Client Insight Inc. to interview their customers and inquire about the customer experience. Client Insight's customer feedback process measures ELRUS' customer loyalty and elicits the factors that influence their purchase decisions and identifies what customers value. The customer feedback and results below are compiled from more than 600 customer interviews completed since Mar, 2012. ELRUS understands the importance of customer feedback and uses the business insight to improve operational productivity and customer satisfaction.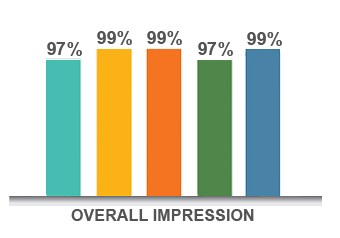 Satisfied with the overall purchase experience with ELRUS
If I were to repurchase, I will purchase from ELRUS
Will recommend ELRUS to industry associates & partners
Satisfied with the quality of ELRUS' service offering
Impressed with ELRUS' staff attitude & level of professionalism
Here are some of the customer feedback metrics, ELRUS uses in improving their business.
Continue reading and use Equipment, Parts and Service links to review the customer feedback results and customer reviews and testimonials. ELRUS Aggregate Systems could be a good supplier for your aggregate business.
Read What Customers Are Saying About ELRUS
---
What Customers Value (WCV) About The ELRUS Aggregates Experience?

Here are the top 6 reasons that customers value about the purchase experience with ELRUS Aggregate Systems.
Click the link to Read more customers' testimonials
WHAT CUSTOMERS SAY
"We value the quality of ELRUS equipment, the quality of their service and support."
Richard S, Alberta Aggregates Ltd, Brooks, AB Jan/17
"I value the learning we gain from ELRUS. There is always something new and improved coming along, and we like to have top of the line technology and leading edge equipment."
Adam T, The Sarjeant Co. LTD, Barrie, ON Oct/16
"It is the equipment and the people that I value. ELRUS builds equipment that is better and heavier than other manufacturers. The people that we work with in Edmonton are also very good."
Cory P, Burnco Rock Products Ltd, Edmonton, AB Aug/15
---
Why Recommend ELRUS (WRE) Aggregate Systems To Industry Associates and Partners?

Here are the top 5 reasons why customers recommend industry associates and partners to ELRUS Aggregate Systems.
Click the link to Read more customer stories
WHAT CUSTOMERS SAY
"I already to recommend ELRUS because they have excellent service, quick response, and good quality parts. For us the big thing is down time. If we have an issue, we need it solved right now. ELRUS is very good at responding quickly."
Brent M, Canada Building Materials, St Marys, ON Jan/17
"I will recommend ELRUS because it is #1 in North America! They make good equipment that is well built. The guys are very knowledgeable."
Dan P, Calgary Aggregate Recycling, Calgary, AB Oct/16
"ELRUS sells good product and they support it with good service. They have answers to our questions and if they don't, they will find the answer. They get us the parts we need in a hurry. ELRUS does what they are supposed to do. That is why we went back to them."
Ross A, Buffalo Gravel Corp, Grande Prairie, AB Nov/15
---
What Factors Influenced (WFI) The Purchase Decision From ELRUS Aggregates

Here are the top 6 factors that influence customers to purchase from ELRUS Aggregate Systems
Click the link to Read more customers' testimonials
WHAT CUSTOMERS SAY
"I ran into Phil with ELRUS at a trade show several years ago. He came out to visit us and that is how the relationship started. I have been buying parts from him ever since because of the promptness of their service."
Mark D, Southwestern Sales Corporation, Tecumseh, ON Jan/17
"We talked to some other guys in the industry about the Telestacker and what we heard is that there are other machines out there but that the ELRUS one is built better. So references suggested we buy this one."
Brody, Grimshaw Gravel Sales, Grimshaw, AB Sep/16
"ELRUS service keeps us coming back. We are fortunate to have them 15 minutes from our main yard. It doesn't matter where we are operating though, they take care of us. We probably have 40 conveyors, all our cones are from ELRUS. We likely have 60 pieces of their equipment in our operation."
Blaine B, Aggregate Processing Services, Kitchener, ON Dec/15
---
ELRUS 'After Hours' Parts And Repair Service


Many of ELRUS' customers operate their aggregate production spreads 24 x 7. They depend on ELRUS Branches to supply them with the parts and consumables they need. 95% of customers say they are satisfied with ELRUS 'after hours' service.
Click the link to Read more customers' testimonials
WHAT CUSTOMERS SAY
"I deal directly with John or Greg Y at ELRUS after hours. It can be 10:00 at night and they are there for me."
Dan M, Aggregate Customer, Jan/17
"We have had to call ELRUS after hours several times. They always answer and they've gotten us what we need right away. They are really good about that."
Jordan F, McLeod Valley Sand & Gravel, Edson, AB Dec/16
"I have phoned James with ELRUS at midnight and he will do everything he can. I am way out of town and I will give him a call and he will meet me halfway. There are not many companies who will do that. With James it has always been good."
Cliff F, Nelson River, Winnipeg, MB Nov/15
---
ELRUS Aggregate Systems Can Be Called To "Show Up And Get Us Out Of A Bind"

ELRUS has a workforce of Service Technicians and Parts staff to get your equipment back up and running. 97% of customers said that "ELRUS will show up and get them out of a bind."
Click the link to Read more customers' testimonials
WHAT CUSTOMERS SAY
"I was in a really big bind once, and an ELRUS guy came out. He was a technician and he was really helpful. He knew about our jaws."
Greg B, Vihar Construction Ltd, Smithers, BC Dec/16
"One time we had a bearing blow, and ELRUS came on site the same day with a new bearing and a technician to do the repair. We were up and running the next morning so we were only down 3/4 of a day. That is really important for us."
Stephan F, Tollestrup Construction, Lethbridge, AB Jul/16
"We had trouble with the computer on our cone and talked with the ELRUS boys. Our company didn't want to buy the updated version of the computer so the ELRUS guys went to work and found the pieces and parts from another customer. That allowed us to fix our computer and keep going. They found us a solution and saved us a lot of money."
Vic D, Mulder Construction & Materials Ltd, West St Paul, MB Dec/15
---
ELRUS Equipment Has Increased Our Operational Productivity

ELRUS customers maintain or increase their operational productivity by using ELRUS aggregate equipment. In fact, 83% of customers say that their operational productivity has increased as a result of using ELRUS manufactured and supplied equipment.
Click the link to Read more customers' testimonials
WHAT CUSTOMERS SAY
"Yes, ELRUS equipment has increased our productivity. We have more uptime, less downtime and more tons at the end of the day. I'd say it has increased our tonnage by at least 10%."
Adam T, The Sarjeant Co. LTD, Barrie, ON Oct/16
"We've doubled our production with ELRUS equipment, and we are putting out better product now too."
Demetrius T, Geransky Brothers Construction, Martensville, SK Jul/16
"It definitely has increased our production. We had an old jaw that had been through the mill. The new jaw that we have from ELRUS is a smaller unit. This ELRUS jaw is faster to move and better production Their equipment looks awesome."
Danny K, Oldcastle Materials Grand Junction, CO Sep/15
---
I Purchased The Best Equipment Available On The Market

ELRUS listens to their customers to determine how to better design and manufacture their equipment (OEM). In fact, 89% of customers who purchased ELRUS equipment say that "they purchased the best equipment available on the market".
Click the link to Read more customers' testimonials
WHAT CUSTOMERS SAY
"ELRUS is the biggest crushing equipment company and they have the best quality."
Doug F, Doug Folden Trucking Ltd, Melfort, SK Nov/16
"Every salesman sells you the best machine in the world. Very rarely is that actually the case, but ELRUS has lived up to the claim. This plant was a stretch for us because we deal with straight material. It is working well and we are happy with it."
Larry W, Westcan Bulk Transport Ltd, Edmonton, AB Jul/16
"I did purchase the best – we had one before (Cone H6800) and we just loved it. It is a good unit – it is easy to use and easy to service. ELRUS provides really good support and are always available to talk us through things, even after hours."
Ross A, Buffalo Gravel Corp, Grande Prairie, AB Nov/15