How do you get your customers to recommend your business? What are the reasons that so many of ELRUS customers recommend them? That's a question that ELRUS management have been curious about, so they hired Client Insight Inc. to interview their customers and find out why, from their customer's perspective. The top 5 reasons from highest are Quality of Product & Design, Service, Staff Knowledge and Experience, Availability of Equipment/ Parts/ Service and Relationship.
Use the links below to read why ELRUS Aggregate customers recommend them. ELRUS may be a good equipment, parts and mechanical service supplier for your business.
Useful Links
---
---
2017 ↑ Back to top
"I recommend ELRUS all the time. The quality of the equipment, the service and the people are wonderful, and we have had a long term relationship with the company. They have a lot of knowledge, and Rolly, the Founder of ELRUS was the one who revolutionized the component type of equipment. Equipment used to be built to have everything added on to one chassis. Now you  can mix and match pieces of equipment and they perform better. We were operating 4 screen decks, making 7 different products. You couldn't do that in the past where everything was mounted on one chassis. It's all mobile, where the cone is a separate item from the screening plant."
Terry M, Lawrence Meier Trucking Ltd, Dunmore, AB May/17
"I recommend ELRUS mostly because of the service, and the fact that ELRUS is a Canadian company, and the equipment is manufactured in Canada. They are definitely not the cheapest. We pay a premium, but at the same time, we know that if anything goes wrong, we can get service and parts. ELRUS can provide the quickest service by far."
Ed K, Kode Contracting Ltd, Prince George, BC May/17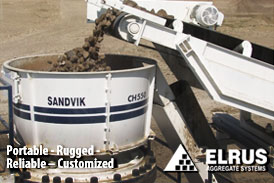 ---
"We recommend ELRUS because the equipment works the way it is supposed to. It is dependable, lasts a long time, is user friendly and maintenance friendly. We have less down time which is very important. Their staff are definitely very helpful. I was on the phone with Kurt today in fact. They give us excellent support."
Brent M, Canada Building Materials, St. Mary's, ON Apr/17
"ELRUS has good service. You buy something and they don't just forget about you. They do the servicing and they follow up. We have had a long term relationship over 20 years with ELRUS."
Wayne R, Canada Building Materials, St. Mary's, ON Apr/17
"I would recommend ELRUS because of the service and the equipment. When I say service, I am talking about Greg Y and Kurt S. Those guys are great."
Mario T, Alvin Caldwell Sand and Gravel, New Liskeard, ON Apr/17
---
"We've had good experiences so far, with the people at ELRUS, and with the equipment itself. The equipment is working well for us."
William B, Budget Environmental Disposal, Hamilton, ON Mar/17
"I do recommend ELRUS because their equipment is well built, it is on the simple side, and I've had very few maintenance issues. It's built heavy, strong and simple, not like the new hydraulic stuff. It is old school, and it is well thought out in most cases."
John C, Flesherton Concrete, Flesherton, ON Mar/17
"I would definitely recommend ELRUS based on the customer experience, the guys going out of their way, and even Shelley in the office. Whenever I call to set something up, she is always polite. I recommend ELRUS equipment because of the quality of the product they provide and the fact that they stand behind it."
Joe P, Aggregate Processing Services, Kitchener, ON Mar/17
---
"I dealt with the owner of ELRUS, Roland, way back in the day, and I'm thinking he still has good staff around."
Donald, NCL Contractors LTD, Deer Lake, NL Jan/17
"I would recommend ELRUS because their equipment seems to be good."
Sam G, Greenwood Aggregate Company, Amaranth, ON Jan/17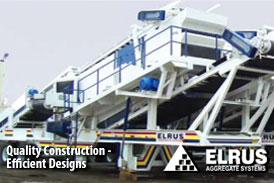 ---
2016 ↑ Back to top
"I would recommend ELRUS because Greg Y's efforts are substantial."
Ryan D, Walker Aggregates Inc, Severn Bridge, ON Dec/16
"I would recommend ELRUS because of their professionalism."
Glenn S, 644735 Ontario Ltd (Snow Bros), Erin, ON Nov/16
"I will recommend ELRUS because of the longevity of their equipment, it's a well known brand and parts are easy to get. I usually get parts within a week."
Adam T, The Sarjeant Co. LTD, Barrie, ON Oct/16
---
"I will recommend ELRUS because it is #1 in North America! They make good equipment that is well built. The guys are very knowledgeable."
Dan P, Calgary Aggregate Recycling, Calgary, AB Oct/16
"I have dealt with ELRUS for years and they've always been fair with us, and they build great equipment."
Paul S, West Central Contracting Ltd, Hinton, AB Aug/16
"ELRUS has good equipment."
Brian, Sparks Sand and Gravel Ltd, Virden, MB Aug/16
---
"I have already referred ELRUS. We are happy with the product. It does what they said it would do and what we want it to do."
Matt M, Buffalo Plains Cattle Company, Moose Jaw, SK Jul/16
"ELRUS left a good taste in our mouth. The machine does what they said it would do, and it arrived on time."
Larry W, Westcan Bulk Transport Ltd, Edmonton, AB Jul/16
"I heard by rumor that ELRUS is good. I think they are one of the best suppliers on the market."
Trent S, Silver Eagle Excavation, Biggar, SK Jun/16
---
"I strongly recommend ELRUS because as an organization, they are very professional, are a well rounded company and they have a solid base of knowledge with good people."
Rick K, Kode Contracting Ltd, Prince George, BC May/16
"It depends on who we are talking about. I wouldn't recommend ELRUS to our competition because I don't want to give them a competitive advantage. But I would recommend them to others."
Lyle W, Venture Construction Inc, Martensville, SK May/16
"I sure would recommend ELRUS. So far we are using the feeder and it works well. From day one, ELRUS was on board. They have been easy to approach, easy to talk to and they showed us how to use the equipment. They seemed happy to help us. Just the way they interacted with us – their presentation was pretty professional."
Clarence M, Community Government of Wekweeti, NT Apr/16
---
"Oh definitely, I would recommend them. I think that ELRUS equipment is by far the best. Everything about ELRUS is better: their equipment, their service and also their product support."
Lee W, Joe Kerr Limited, Wingham, ON Mar/16
"I like the Sandvik crushers and have had good luck with them in the past. I have also had good luck with ELRUS. They have been there for us and have looked after issues when they have come up. I have also run Sandvik crushers on the hardest rock in Ontario and they outperform other crushers. I would have no issue taking a Sandvik crusher to any job."
Dave R, Priestly Demolition, King City, ON Feb/16
"I recommend ELRUS to my bosses because they are seriously committed to the aggregates business. Theirs' is not a small operation."
Frank S, City of Calgary, Feb/16
---
"I would recommend ELRUS because of the working relationship with all of their staff. I have always had a good working relationship with them. It says something about the company itself and it says something about the culture they have built and maintained."
Lloyd G, Butler Bros Supplies LTD, Duncan, BC Jan/16
"In fact I was telling others (other communities) at meetings in Yellowknife that they should go buy from ELRUS. They provided the equipment on time."
Judal D, Community Government of Gameti, Gameti, NT Jan/16
"We are a smaller outfit and we will need help. We are hoping to get assistance from ELRUS when we need help. It seems they could be a good resource for us."
Doug S, Liberty Trucking Ltd, Duchess, AB Jan/16
---
2015 ↑ Back to top
"I always do. I think I might be one of ELRUS' best Salesmen in Ontario because I believe in their equipment. We have 4 of their 4800 cones, a 6000 cone and an older S3800 cone. I have been in this industry for a long time and their cones do good work. They also have great screens – easy to setup and maintain."
Blaine B, Aggregate Processing Services, Kitchener, ON Dec/15
"I believe that they make superior equipment. I have had other competitors' equipment in the past and I like ELRUS equipment because it is built better than the competitor's."
R McIntosh, McIntosh Crushing & Aggregate, Montmartre, SK Dec/15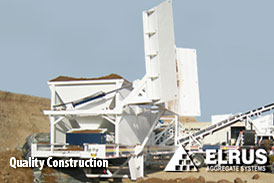 ---
"I would recommend ELRUS because I really do like their gear. The ELRUS staff are also good people – they have the parts available as well. Another reason is that I can call Scotty in Calgary and pick his brain. He always has time and if he doesn't know, he will find out. Scotty gets back me. Not many companies have the level of customer service that ELRUS does."
Lenny G, Lafarge Canada Inc, Ft. McMurray, AB Nov/15
"ELRUS sells good product and they support it with good service. They have answers to our questions and if they don't, they will find the answer. They get us the parts we need in a hurry. ELRUS does what they are supposed to do. That is why we went back to them and Sandvik cones. ELRUS has service and knowledge to support the equipment they sell."
Ross A, Buffalo Gravel Corp, Grande Prairie, AB Nov/15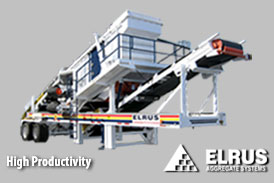 ---
"I sure would recommend ELRUS. My perception is the new equipment is all pretty much the same these days. What it really boils down to is the service that is supplied. Service from your supplier sells equipment. What ELRUS is doing right now, by meeting with us and trying to get the issue resolved, is what I will remember. If ELRUS services what they sell, that is what matters."
Denis O, Oldcastle Materials,
Grand Junction, CO Sep/15
"I would recommend ELRUS for two reasons: Their product line and quality are good and they have higher standards in the equipment they build."
Cory P, Burnco Rock Products Ltd,
Edmonton, AB Aug/15
"We have had a very good relationship with ELRUS over the years. They are a Canadian company and it is a good time to be spending Canadian dollars."
Nick O, Nova Construction Ltd,
Antigonish, NS Aug/15
---
"Because of the relationship and trust I have with ELRUS, I would recommend them. They have parts and service and know what they are doing. If you have to take the equipment apart, they will get in and help you. They don't mind getting their hands dirty and showing you how it works and how to fix it right."
Lyle W, Venture Construction Inc,
Martensville, SK July/15
"I would recommend ELRUS because they have flexible conveyors. I can use them as a junk conveyor, a transfer conveyor or a stacking conveyor. The wheels are back far enough that you can get a decent sized pile. They are also clean and I like them better than the competitor's conveyors."
Garland S, Birds Hill Gravel & Stone Ltd, MB July/15
"The clear and concise invoicing and the calls backs from ELRUS is why I recommend them. They have been there for us on service, when we needed it. They are ready and available and they have been patient. Overall ELRUS is a great company to work with.".
Les S, Kahkewistahaw Sand & Gravel,
Broadview, SK July/15
---
"I recommend ELRUS because of their service and the parts are delivered right to my site with no delivery charges. The parts are delivered and I am pretty happy with the service that Ron and Troy are providing."
Brian L, Lafarge Canada,
Lethbridge, AB July/15
"Anytime there are issues, ELRUS comes to the plate to take care of it. They are there for us."
Equipment Purchase Customer,
Madoc, ON July/15
"I would recommend ELRUS Aggregates because they do a good job of putting their units together. ELRUS has done so many Control Vans, it is a pretty good fit. We are impressed with their equipment."
C Young, Robert E. Young Construction,
Selwyn, ON June/15
---
"I would recommend ELRUS Aggregates because they are a big outfit – they have good support and the best equipment."
M Banner, Rickard Excavation,
Fort McMurray, AB May/15
"The ELRUS staff, Ron, Mario and Greg are all good to deal with. I like the ELRUS equipment. We have 3 crushers running right now and 3/4 of our equipment is from ELRUS."
C Barsi, Barsi Enterprises Ltd,
Mayerthorpe AB May/15
ELRUS also has a real strong customer support network built up. They have the infrastructure and the professional people to support it. I would say that no one comes close to ELRUS' support for parts and service. I also think that ELRUS has a real presence in the industry. People with other manufacturers' equipment hire ELRUS to support and service it. It is almost funny that ELRUS will do that, but it really shows their willingness to help. It is quite commendable."
D Fortner, BBE Hydro Constructors LP,
Keeyask, MB Apr/15
---
"Because ELRUS has good people to deal with. I can call Brent Martens from Calgary anytime, 24 hours a day. Actually, there are a lot of ELRUS staff I can call at anytime and they answer their phones."
C Fay, Potzus Ltd,
Yorkton, SK Mar/15
"When there was a problem, ELRUS did everything they could to fix it. That means something to me and that is why I give a 5 (top marks) and will recommend them."
G McIntosh, K.McIntosh and Sons,
Outlook, SK Mar/15
"I would recommend ELRUS Aggregates because of their level of knowledge."
RM of Wilton, Marshall,
SK Feb/15
---
2014 ↑ Back to top
"ELRUS Aggregates have been around a long time. I personally bought a screen deck from Roland – my experience is that ELRUS builds good equipment and they are good people to work with."
K Anderson, Kinsella Transit Mix,
Kinsella, AB Dec/14
"Marshall from ELRUS also looks after us really well. He comes out and when I first started, he spent time with me to make sure our equipment was working efficiently."
K Royko, Lafarge,
Carseland, AB Dec/14
"I value their experience and the strength of their people. Their staff are all very helpful. Their service approach, their professionalism and their responsiveness is good."
E Lamb, Waterford Crushing,
Brantford, ON Dec/14
---
"I valued ELRUS service, knowledge and response time."
O Hayes, Hayes Group,
Smith, AB. Nov/14
"It was the fact that ELRUS Aggregates met our needs."
D Zardenic Yellowhead Aggregates,
Edmonton, AB Nov/14
"I think the ELRUS equipment is reliable and they have good people. I have dealt with Greg a lot. I value his knowledge and the ELRUS staff are there to help."
J Garito, Porcupine Gold Mines,
South Porcupine, ON Oct/14
---
"It's the relationships that I have with the ELRUS staff that I value the most."
M Harder, Sundre Contracting,
Sundre, AB Oct/14
"I value the working relationship with ELRUS and their Service Techs. George and Kevin are really good."
T McFaul, Inland Aggregates,
Calgary, AB Oct/14
"Just like I said, everyone from ELRUS Aggregates has been good to deal with. They have good people, their equipment is well built and it has increased our operational productivity."
C Croswell, Dale Croswell Construction,
Thorhild, AB Oct/14
---
"I value the honesty, the product and the value of it. ELRUS Aggregates stands behind their equipment."
D Urlacher, Urlacher & Sons Construct,
Neilburg, SK Aug/14
"ELRUS Aggregate's product support is the best. We can call George or Travis or anyone in Calgary and get the help we need."
J Bender, JMB Crushing,
Bonnyville, AB Aug/14
"ELRUS does business on terms that everyone can understand. They are straight shooters there is no bull shit. It's a pleasure to do business with ELRUS."
E Marshall, Earl Marshall Trucking,
Erskine, AB Aug/14
---
"The people at ELRUS Aggregates, dealing with Barry and Jared is good. They are good people to deal with."
S Emmons, Emshay Enterprises,
Moose Jaw, SK Jul/14
"I would recommend ELRUS because of their knowledge and they have experienced staff."
L Zazuluk, County of St Paul,
St Paul, AB Jul/14
"When I phone ELRUS Aggregate Systems, I get someone and the answers I need. They are good at coming out for service and their service is good."
D Folden, Doug Folden Trucking,
Melfort, SK Jul/14
---
""ELRUS provides good equipment, good service and experienced staff."
M Croft, Flesherton Concrete,
Flesherton, ON Jul/14
"ELRUS is a reputable company and they do a good job of looking after their customers."
B Ptolemy, Ptolemy Construction
Rosetown, SK Jul/14
"I would say prompt service. When we call they are pretty quick to get the price or the answer. Gino can be here pretty quick."
R Breaks, Pitt River Quarries,
Pitt Meadows, BC May/14
---
"I value ELRUS' customer service and their loyalty to us as customers. I value Ron's rock solid approach in delivering on his promises. All their management are rock solid in that way, just as Roland was earlier on."
J Mundy, Sand Recycling,
Edmonton, AB Apr/14
"I value the communication, honesty and the fact that we are dealing with real people at ELRUS Aggregates. For example, for parts we deal with Kurt. He is like one of us. If I call for parts, he is right there."
B Samson, Aecon Mining,
Timmins, ON Apr/14
"It's ELRUS service, good product and willingness to tell us things (inform and educate). One of their seasoned mechanics has taught me so much over the years."
Pit Superintendent,
Manitoba, Apr/14
---
"ELRUS parts inventory and accessibility."
P Seabrook, West Central Contracting,
Hinton, AB Jan/14
>
"They make a good system. Everything is easy. They have about the fastest setup you can get. It is good equipment."
J Luckasavitch, J&P Leveque Brothers,
Bancroft, ON Jan/14
"I like being able to call them or go to the shop in a hurry, unannounced and get the parts I need. It is very convenient."
C Charman, Holicim Inc, Butler Site,
ON, Jan/14
---
2013 ↑ Back to top
"It is simple, the guys know what they are talking about and are just down the road, they are all good guys."
S. Wiseman, Gordon Wiseman Ltd
Woodstock, ON Nov/13
"My ongoing relationship with ELRUS. I can phone them whenever I have a problem. I have learned from them and now from Spencer. I like to be 'hands on'."
R McIntosh, McIntosh Crushing,
Montmartre, SK Oct/13
"Because of their 'after sales' service and they seem to have a good parts system. Very seldom have we been delayed by a lack of parts. ELRUS is pretty good on that."
V Halls, Kode Contracting,
Prince George, BC Sep/13
---
"I value the quality of the equipment from ELRUS Aggregate Systems."
C Botkin, C.D.Botkin Construction,
Regina, SK Sep/13
>
"ELRUS makes a good product and they stand behind it."
R Ponomar, MP Crushing,
Coalhurst, AB Aug/13
"The customer service. I can pick up the phone and call anyone at ELRUS. George is only a phone call away."
D Zardenic, Yellowhead Aggregates,
Edmonton, AB, Aug/13
---
"I value the Sales people, I like Barry, he is a real decent guy. ELRUS' manufactured product is superior to their competitors. There is a good amount of after sales support for their."
S. Wilson, GW Construction,
Buchanan, SK Aug/13
"ELRUS bends over backwards to get us the parts we need. I will call and they say, 'we have an extra person in today, we will meet you at Portage'. That reduces our downtime."
D Gilbert, Zenith Paving,
Brandon, AB. Aug/13
"I value the fit and finish of ELRUS equipment, as well as the service that comes with it. Their Service Techs are a definite asset. ELRUS has a lot of value add."
C Pichota, Burnco Rock Products,
Edmonton, AB Aug/13
---
"Their equipment is very good. It is state of the art. They are local and the service is very good."
D Kriangkum, Athabasca Minerals
Inc. Edmonton, AB Aug/13
"I value the relationship I have with Greg and Cecil. They are dependable and we can count on them. We trust them as the information they provide is valid."
S. Elliot, Custom Concrete
(Northern), Timmins, ON Jul/13
"I value that ELRUS staff are courteous and very easy to deal with."
Kevin, McNally Contractors,
Lethbridge, AB Jul/13
---
"ELRUS also provides really good service. The new branch in Saskatoon is huge for us. ELRUS listens and implements the changes."
G. McIntosh, K McIntosh and Sons,
Outlook, SK May/13
"I value the equipment design and its reliability. It is well engineered."
M Meloche, La Compagnie Meloche,
Kirkland, QC Mar/13
"I value the quality of equipment and ELRUS' Parts staff will immediately help."
S. Flasha, Paul Flasha Contracting,
Whitecourt, AB Feb/13
---
"I value the whole thing about ELRUS Aggregates. Their Parts people will help immediately and phone others to find a solution; it's good support."
S Flasha, Paul Flasha Contracting,
Whitecourt, AB Feb/13
"ELRUS staff are friendly and they return calls. They also have new ideas and inform how the ideas can help with production."
Aggregate Producer,
Yorkton, SK Feb/13
"ELRUS Service Technicians can troubleshoot over the phone, they are an Alberta company and they can supply the after sales parts/service that we need to stay operational."
Aggregate Crusher,
Fort McMurray, AB Feb/13
---
"Our ELRUS Salesman is pleasant to deal with and he's prompt in getting back to me. The sales experience was positive. They delivered the wrong equipment but they were prompt to fix it. No one complained about it, they just got it done and made it right."
Gideon, Masterloy Products,
Ottawa, ON Feb/13
"I value ELRUS' dedication to the customer – that's the nicest thing. They have a good knowledgeable support team. If they can't come immediately, they explain it over the phone."
B Dick, Brett's Gravel & Crushing,
Ponoka, AB Feb/13
"When you ask a question you want it answered quickly; ELRUS have always returned my calls, helped me troubleshoot over the phone and helped me get back up running quickly."
M Laplante, Miller Paving Northern,
New Liskeard, ON Jan/13
---
"The fact that the equipment was available."
S Broda, Broda Construction Ltd,
Kamsack, SK Feb/13
---
2012 ↑ Back to top
"I value their service and the level of knowledge. They had a really good parts man – Lloyd – he was really good."
M Harder, Sundre Contracting,
Sundre, AB Dec/12
"It is the equipment, it's good product. ELRUS Aggregates' lines of cones and conveyors are some of the best equipment around."
L Strocher, River Valley Contractors,
Drayton Valley, AB Dec/12
"ELRUS is a personable company, down to earth and … easy to deal with it."
G Sigfusson, Sigfusson Northern
Lundar, MB Nov/12
---
"I think what I value is that if I am interested in something an ELRUS Salesman is very quick to get me information. I would say that they are quite sensitive to a customer's needs."
M Hidber, Skeena Gravel Products,
Terrace, BC Dec/12
"The fact that the ELRUS staff are honest and upfront. ELRUS is very good to deal with. I have dealt with a lot of people in the last 44 years and ELRUS is a pleasure to deal with."
B Bell, Aggregate Processing,
Kitchener, ON Dec/12
"They have inventory, if I need new equipment, they generally have it. It is the reason I bought the screen deck."
J Malin, Sage Management Ltd,
Cardston, AB Nov/12
---
"We had a situation a number of years back where they got our plant going over the Xmas season. They did what was necessary to make it happen. I don't worry about our relationship with ELRUS, it is good, we get the service we need. ELRUS is pretty damn good."
L Wilson, Venture Construction Inc.
Martensville, SK Oct/12
"Our ELRUS Salesman provided a lot of information and answered all my questions. There has also been good post-sales support and having Cecil close by helps. He is a phone call away and can provide helpful information. It is all around good."
C. Caldwell, Alvin Caldwell S & G Ltd.
New Liskeard, ON Oct/12
"I value ELRUS' level of customer service both from a Sales and Aftermarket perspective."
J Hutchison, San Gold Corp, Bissett,
MB Oct/12
---
"I value ELRUS' Part availability, service support and the quality of equipment they manufacture. It is generally speaking very good."
M Scott, Spring Creek Aggregates,
Terrace, BC Aug/12
"I value dealing with ELRUS because of the the product … their service and parts support."
J Danford, Danford Construction
Madoc, ON Aug/12
"A lot less downtime for repairs. It is new equipment so there should be less downtime."
C Alexander, Con Alexander
Trucking, Unity, SK Aug/12
---
"I value ELRUS' level of customer service and the relationship we have with them."
R Kovach, Kode Contracting,
Prince George, BC Jul/12
"The biggest thing is their experienced staff and they have the same people working with them for years (some 20 years). You can build relationships and they remember the trouble you had 5 years ago."
D Collett, Gravier Collet Gravel Inc.
Notre Dame de Lourdes, MB Jul/12
"We have a good business relationship with ELRUS. That is most valuable to me."
D Wiebe, Arjon Construction,
Calgary, AB Jul/12
---
"We value the fact that we do business on a personal level. Greg, Cecil and Steve are genuinely interested in our success and we feel that. They are on our team."
D Day, William Day Construction,
Copper Cliff, ON May/12
"ELRUS stocks a phenomenal amount of parts in Calgary and throughout their system. They have knowledge of the parts they sell. It's the parts, the availability and the technical support."
H Derksen, Lonesome Prairie S&G,
Saskatoon, SK May/12
"The experience and ability to design/build equipment that aligns with our needs. It becomes more of a personal endeavor. You can sit and interact with their staff and determine the solution. They listen and take our needs seriously."
T Meier, Lawrence Meier Trucking,
Medicine Hat, AB May/12
---
"We value their equipment. We have good production as a result of using it."
H Pinske, Lafarge Canada,
Edmonton, AB Apr/12
"Good equipment. Greg is an excellent person … he has a great deal of knowledge and he's always helpful. It is not complicated, ELRUS has the fundamentals down."
S. Elliot, Custom Concrete
(Northern), Timmins, ON Apr/12
"I will have good resale value with ELRUS equipment. People in the crushing industry know their equipment is good."
M. Pidherney, Pidherney's Trucking Ltd,
Rocky Mtn House, AB Mar/12
---
"From my experience, Rolly's focus was always about keeping people satisfied. He would work with you until you were satisfied with the product – my father started working with ELRUS and when you can get the next generation using them with a computer, amazing things happen. Working with ELRUS has been very good."
D. Nelson, Lafarge Canada,
Saskatoon, SK Apr/12
"I value the quality of their machines and the reliability. We have minimal breakdowns and minimal maintenance, plus ELRUS equipment has a high resale value."
T Falk, Diamond Ready Mix,
Steinbach, MB Mar/12