Gerry Doerksen, President of Client Insight Inc. started the organization in 2003 with an interest in helping other businesses grow and succeed. This motivated him to develop a research business that brings the client perspective into clear view of Management and Ownership. Many years of business experience and a talent for analyzing data and seeing opportunities guided the creation of the Client Insight's process and methodology.
Gerry is a Chartered Mediator with the ADR Institute of Canada. He holds a BSc. in Science from the University of Alberta specializing in Agricultural Economics.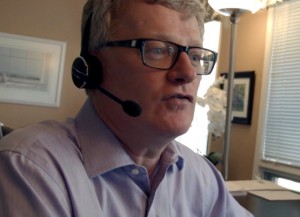 Previous to starting Client Insight, Gerry worked in the Plant Nutrients Industry for 15 years in a variety of roles from Sales, to Planning and Business Process. Gerry also farmed and ranched for 4 years in the Gem area of Southern Alberta.
Gerry enjoys reading, photography and golf. His passion for travel has taken the family across Canada and to destinations throughout North America, Europe, Africa, the South Pacific and the Caribbean. He lives in Calgary with his wife Donna. Their two adult children live, work and study close by.
Mission
Our mission is to inspire organizations to learn, improve, grow and succeed in their businesses.
Client Insight Inc gathers customer feedback with the intention to connect with Respondents, measure the feedback results and identify what is working well and what could be better. We engage in meaningful conversations where Respondents feel heard, acknowledged and valued in the conversation.
We have found the following values to help guide and direct our work.
Values
Open and Honest – we promote a culture of open and honest communication.
Listening – as a neutral party, we take a curious approach and seek first to understand.
Clarity – we believe that clarity in goals and objectives is paramount.
Humility – we are confident enough to be humble.
Professionalism – we take a professional approach and a generalist orientation.
Excellence – we believe that if it is worth doing, it is worth doing well. We strive for the success of our Customers, our Partners and our Business.